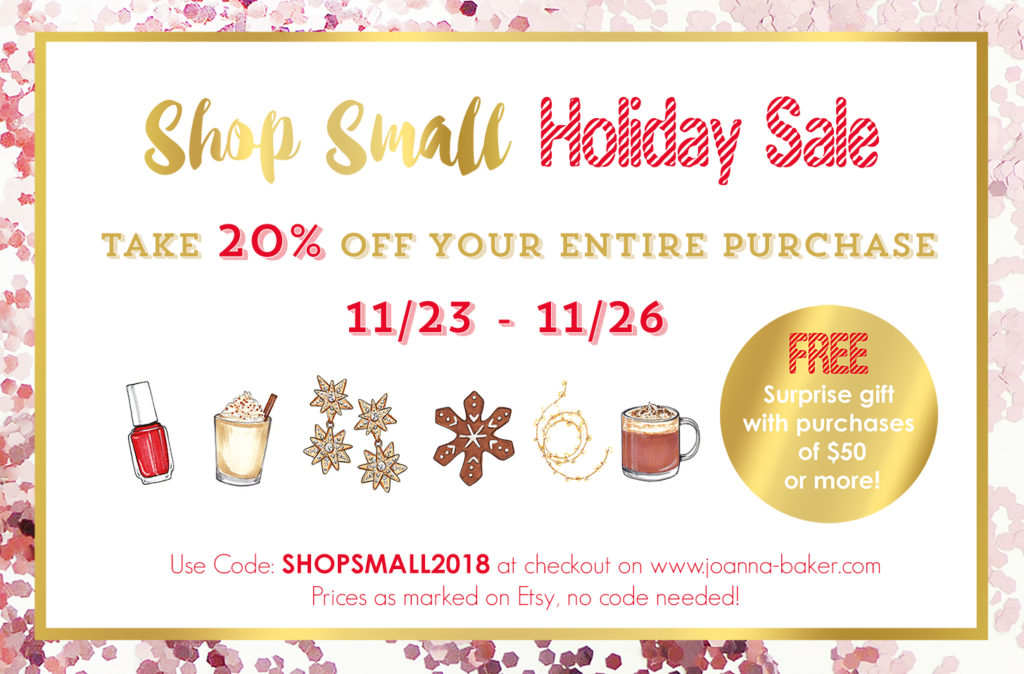 It's here!! The greatest sale of the year! As a small business owner, this little shop is my livelihood and I'm so grateful to all of you who support my work throughout the year, send kind messages via social media and email, commission custom art and purchase my illustrations in person at shows and online. It means the world to me that I'm able to bring a bit of joy and share my artwork with you…
Every year after Thanksgiving, a weekend trifecta of holiday sales come at us left and right but the one that means the most to me is Small Business Saturday. I'm a bit biased being a small business owner after all, but when you "shop small" you're doing more than buying a special gift, you're supporting someone's dream. I fully plan on shopping small for the holiday season and I'm excited to purchase gifts this year from other Etsy shops and makers at local holiday fairs.
To thank you for all the support you've given me throughout the year, I'm offering 20% off your entire purchase on www.joanna-baker.com and www.etsy.com/shop/joannabaker. That's 20% off EVERYTHING including calendars, print bundles and sale items, now through November 26th at 11:59PM EST. Plus, every day of the sale I'm giving away a free gift with purchase on orders of $50 or more! There's a new gift each day so be sure to follow along on my Instagram stories as they are revealed!
To claim your 20% off and free gift on orders of $50 or more, enter code SHOPSMALL2018 during checkout on www.joanna-baker.com. Discounts will be automatically applied in my Etsy shop so no code is needed. Thank you again for all of your enthusiasm and kindness this year and I'm looking forward to getting to work filling your holiday orders for the season!!
xoxo
~Joanna <3