Free Artist Resources
My Favorite Art Supplies, Guides for Artists, & Free Online Art Classes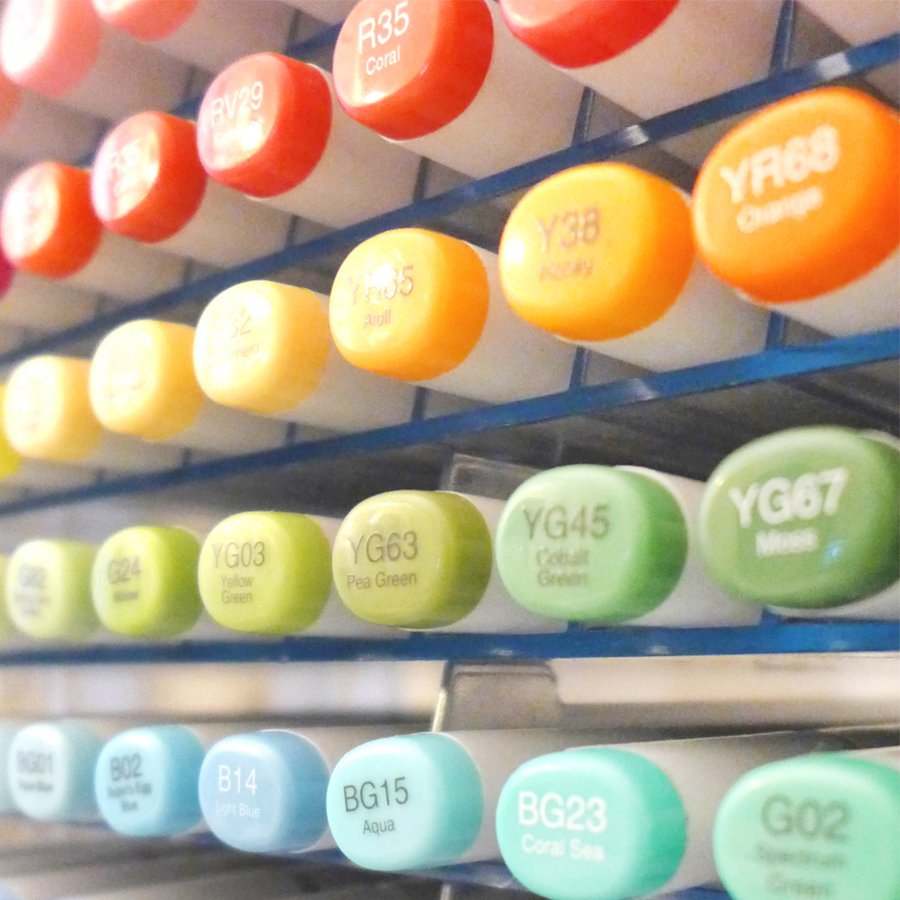 FREE
Copic Collection Marker Guide
If you're interested in building your Copic Sketch Marker Collection but don't know where to begin, I've put together a guide full of tips for choosing colors that work well together along with my most used Copic Marker shades.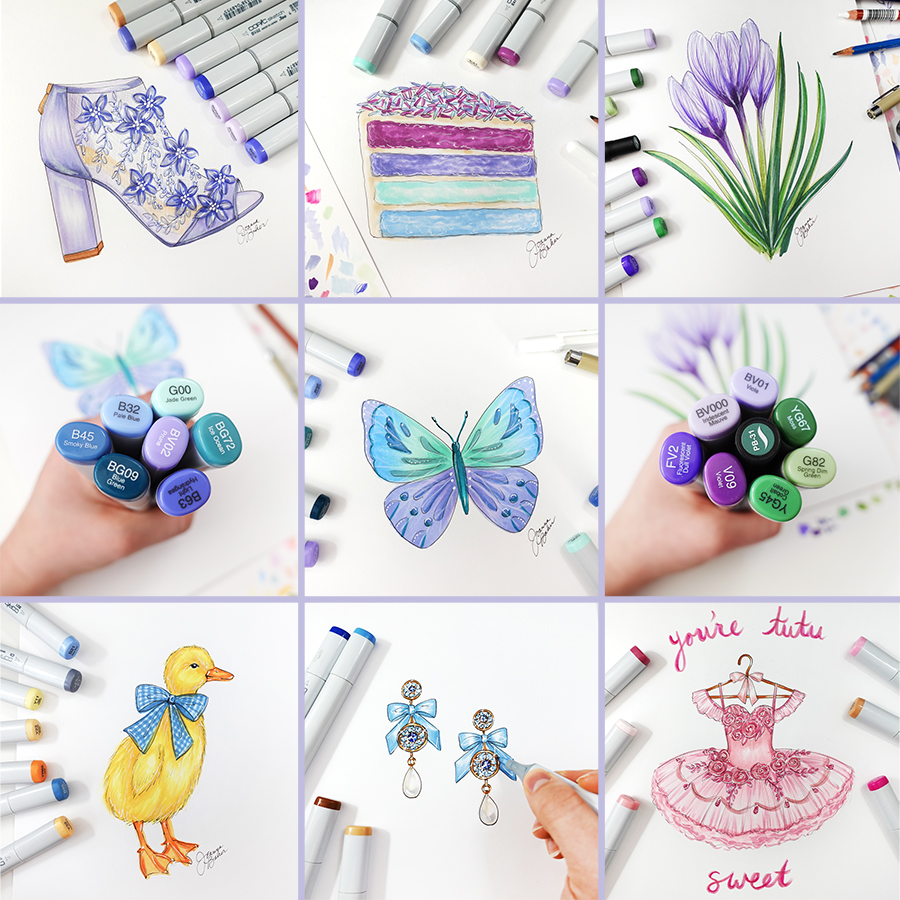 FREE
Community Art Classes
Each spring I host a series of free live online Community Art Classes on Zoom. Students from all over the world gather together and learn how to create beautiful illustrations in a variety of subjects with brush markers.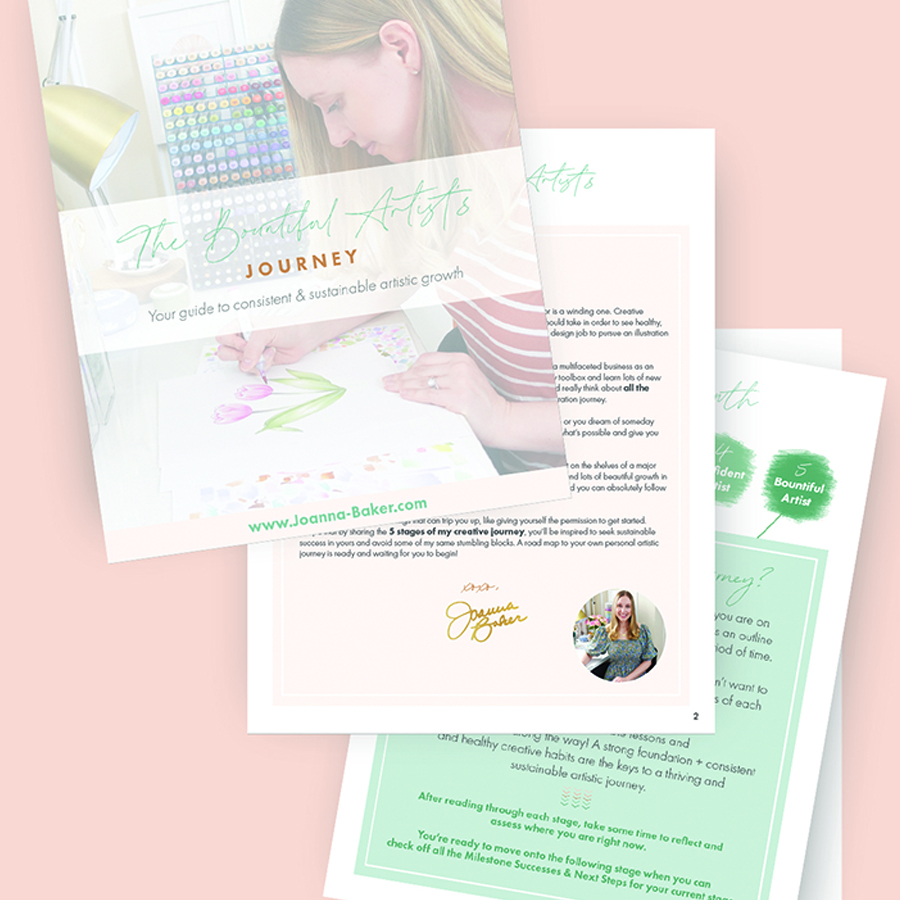 The Bountiful Artist's Journey
FREE
Guide
Get your free guide to consistent & sustainable artistic growth! I'm sharing the steps I took to go from creative hobbyist to full time working artist – along with some creative advice I wish I knew when I was first starting out!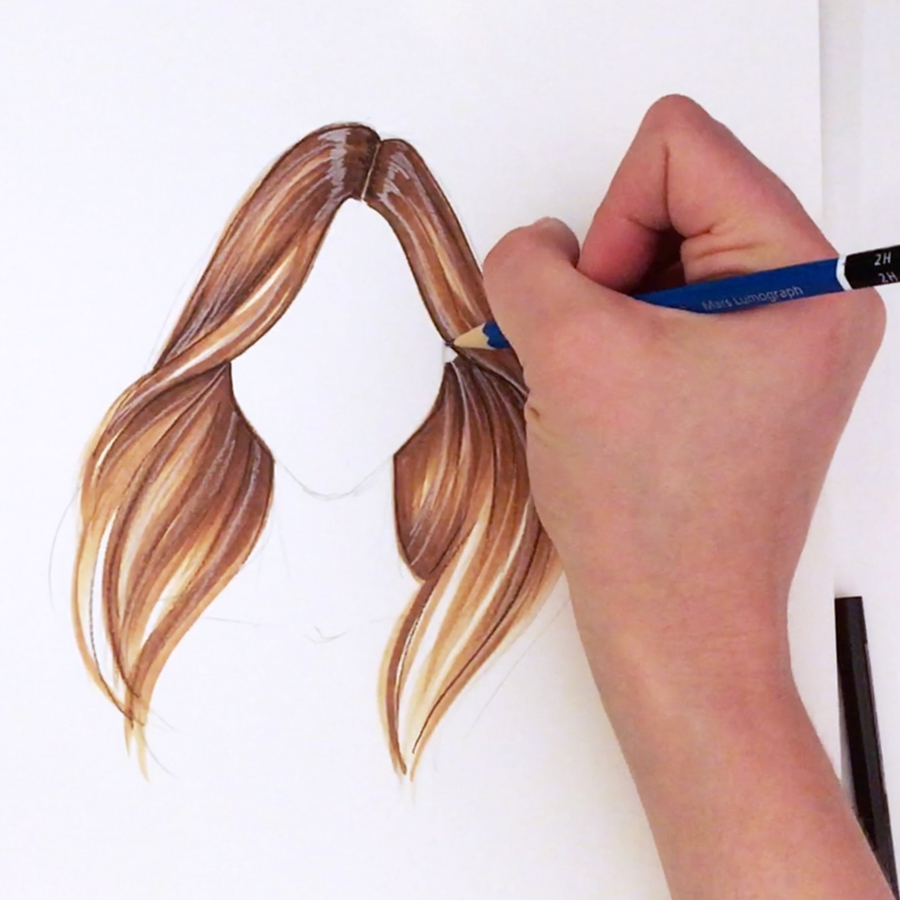 FREE
YouTube Drawing Tutorials
Learn how to draw with brush markers in my free mini tutorials on YouTube. Also get peeks of life behind the scenes in my creative business and watch all the trailers for my online illustration courses.
My Favorite Art Supplies
I love going to the art store and stocking up on my favorite supplies! I've gotten a bunch of e-mails and questions on Instagram asking about the tools I use to create my illustrations, so I thought I'd compile a list of shoppable links with all my favorites. Below are the tools and supplies I use most frequently to create my illustrations, let me know if you have questions about anything on the list!
Disclosure Note: The links below are affiliate links and I receive a small commission from the sale of products featured in these links at no additional cost to you!
Marker Paper
Strathmore 300 Series Smooth Bristol Paper Pad This is my favorite paper for drawing with artist's markers. It doesn't bleed or feather and is sturdy enough for original artwork commissions. I like working on the 9″x12″ size pads but they also offer larger sizes.
Canson Pro Layout Marker Paper This is great paper for practicing. It's very thin but marker ink won't bleed or feather. I don't use this much anymore and usually go straight to the "good" paper but if you're just starting out and want to test different techniques, this is a great paper to practice with.
Pencils
Staedtler 2H Graphite Pencils Pretty much any 2H graphite pencil will do, but I've been using this brand for years. 2H pencils are great because they create an easy to erase under-drawing without putting too much graphite down on the paper.
Prismacolor Colored Pencils These are great and they come in so many colors! One of my first pencil sets was Prismacolor and I've stuck with them ever since. Some of my go to colors are Cool Grey 90%, Cool Grey 70%, Black, Dark Umber, Bronze, & Burnt Ochre.
Derwent Drawing Pencil in Chinese White This super soft white colored pencil is great for adding highlights to hair and shine to clothing. I use it in pretty much every drawing I create!
Pens
Sakura Pigma Micron Pen in .005 Black Perfect for emphasizing fine details, I use this teeny size pen to sketch eyeliner and eyelashes.
Sakura Pigma Micron Pen in .03 Black I use this size pen to sign each of my original illustrations.
Sakura Pigma Micron Pen in .05 Black A little bit thicker but still for fine lines, this size is best for outlines and garment details.
Sakura Gelly Roll Gel Pen in White I use a white gel pen to add small highlights and create sparkles. You can learn how I create the effect of glitter in this YouTube drawing tutorial. I've tried many different brands over the years, but the Gelly Roll brand is the best one I've found to have consistent ink flow.
Erasers
Prismacolor Kneaded Eraser I love using a kneaded eraser during the pencil sketch phase of my illustrations. They don't create eraser shreds and they're good at erasing light pencil marks.
Faber-Castell Dust Free Eraser This is a "stronger" eraser that can erase pencil and colored pencil marks. When you start using a brand new one, the sharp edge is helpful in being more selective with your erasing but eventually the edge does wear down.
Artist's Markers
Copic Sketch Markers The best of the best in artist's markers. Copic ink is very blendable and easy to layer. The sketch marker line is on the expensive side, but the markers are refillable and the marker tips are replaceable. It took me awhile to get on board with buying marker refills (I was honestly intimidated to refill them!) but after trying it once, I realized it's so much more economical getting the Various Ink Refills. The sketch markers have a brush tip on one end that feels kind of like a paint brush and a chisel end on the other for multiple technique applications.
Copic Ciao Markers These markers are the slightly less expensive (but same high quality) sister markers to the sketch marker. And they are double ended as well and have the coveted brush tip on one end. They don't hold as much ink as the sketch markers and come in less colors but if you really want to try Copics and don't want to spend as much money, these are a good option.
Prismacolor Double Ended Brush Tip Markers If Copics just aren't in the budget or if you're looking for a specific color and Copic doesn't have it, Prismacolor brush tip markers are a great alternative. I have a bunch of them from my Parsons design school days and bought a few more in my favorite skin tones when they came out with the brush tip. I sometimes use both Copic and Prismacolor ink in the same illustration and haven't run into any issues.
Paint & Brushes
Winsor & Newton Designers Gouache in Permanent White This is my go to for adding super bright sparkles and facets to jewels. Especially if you're rendering a dark colored garment with sparkles, sometimes a gel pen just won't do and you need a true pop of pure white. I like to apply it with a teeny tiny paint brush.
Princeton Select Short Liner Brush 10/0 I have a few tiny little brushes in my stock pile but have found myself reaching for this one lately. What's most important is that you purchase a brush small enough for the kind of detail you'd like to add and make sure it's suitable for gouache.
Software
Adobe Photoshop
After I scan my work into the computer, I'll use Adobe Photoshop to clean up any stray marks or specs of dust from the scanner and prepare my illustrations for printing. I have a monthly subscription to Adobe CC Cloud and I couldn't run my business without it! If you're not ready to commit to the whole suite, Photoshop is a great place to start. In addition to cleaning up my artwork, I also edit all of my product photography with Photoshop, and even use it to edit photos for Instagram.