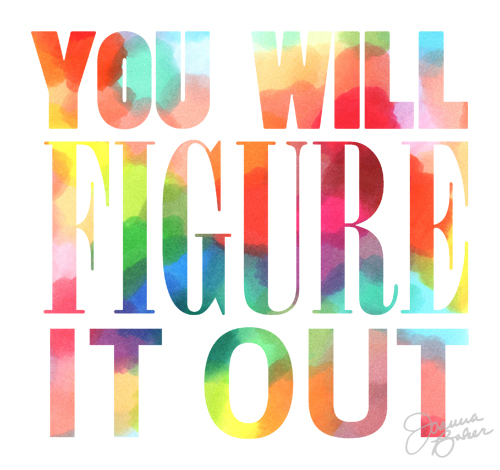 Happy New Year!!! I know I'm a bit late in revelling, but I wanted to wait until it was official. I'm saying goodbye to 2014 and looking towards the new year with anticipation, excitement, and I'll admit a bit of anxiety. But the excitement definitely wins over!
The big reveal is finally here… I have decided to quit my full time fashion job and pursue freelance illustration and design!!
I have been dreaming and planning this for what seems like a lifetime. And it wouldn't even begin to be possible without the unending support from my family and friends. Ever since I started this blog, the idea of someday using it as a lifeline to my ultimate dream (working for myself) has been in the back of my mind. The relationships I have made through my full time job and my blog and the opportunities to work on a variety of custom illustration projects over the past few years have been amazing. I feel so fortunate to have been given little moments of validation in 2014 enough for me to realize I need to give myself the chance to make this work.
There's no better time than now to start fresh, give it everything I have, and believe in the best. I was talking this over with one of my oldest and dearest friends a couple months ago. I told her I was so nervous about making the leap and she told me "You will figure it out. You always figure it out!" So this is my motto for 2015… and it's in bold colorful letters over my studio so I can remember it during those ups and downs that are sure to make up the next year.
My dear readers… some of you whom I know, some I don't, some of you who have left comments and messaged me, retweeted, regrammed, favorited, and liked my work; you all have kept me going and given me that boost of confidence to take this risk.
When I came to New York to study at Parsons nearly six and a half years ago, I had no real plan of how I was going to make a living after design school, I just knew that I wanted to pursue beauty and make beautiful things. And now I can continue that pursuit everyday when I sit down in my studio and draw what makes me happy. Here's hoping 2015 is a year of self discovery, ambition, inspiration, excitement, adventure, and at all costs the gumption to figure it out!
I once again thank you for staying with me thus far and I invite to come along with me on my entrepreneurial journey. I can't wait to share with you more of my life and document my adventure over the next year, I have so many projects, ideas, and dreams to explore! Wishing you and yours a happy and healthy new year!
~Joanna <3