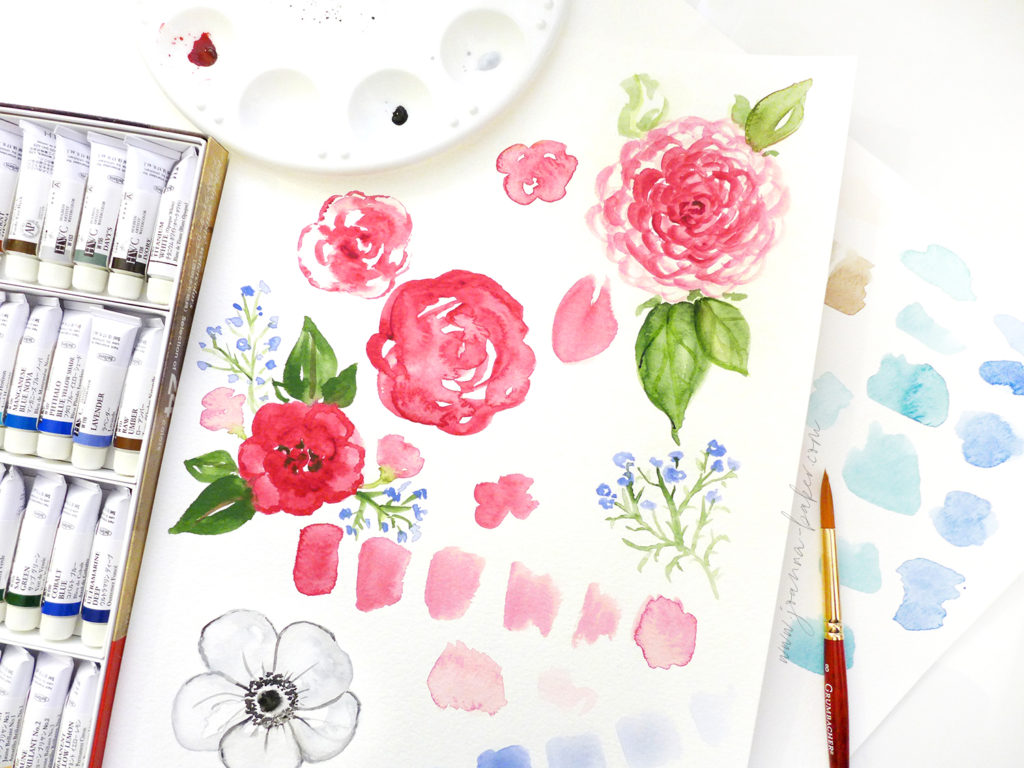 There's something about this year that has me really throwing caution to the wind and trying new things. It's like I've been waiting for a long time to give myself permission to do something different and so far that's included signing up for a creative business class (that started yesterday – YAY!) and picking up a new-to-me medium… watercolors!
I've played around with watercolors a few times before but never really gave them that much of a chance. And I never had a set of my own besides maybe a Crayola palette of bright neons that I'm just now remembering from my childhood. There's something about drawing… more control, more detail, less mess that's kept me reaching for my markers time and again. Plus, I've just gotten super comfortable with them. But a few weeks ago something stirred in me, I had an immediate and sudden need to try something different.
When I made the leap five years ago from fashion designer to illustrator, what used to be my hobby all of a sudden became my livelihood. The pressure to create in order to support myself sort of sucked the spontaneity out of my creative process. I stopped drawing just for fun, everything I created needed to be worthy of my shop or at the very least, content for Instagram. After five years of working that way, I was just done.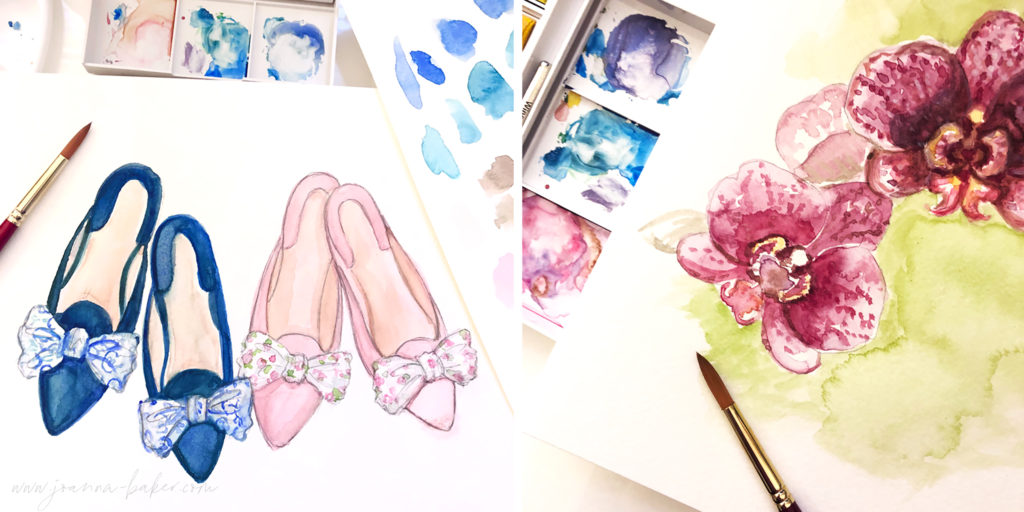 Enter… watercolors. I picked up a travel set of Winsor & Newton Cotman watercolors a few weeks ago after a sweet lady in the art store aisle recommended them. The palette is small and unassuming, just 12 little pans of color. And it felt like the perfect place to begin. I've been playing around with them and having lots of fun. A fellow watercolor enthusiast and member of New York Handmade Collective, Danielle gifted me a set of Holbein watercolors and I started testing those out this past weekend. And I'm just now discovering the rabbit hole that is watercolor art supplies.
Since these aren't marker drawings and I don't have the pressure of making them "perfect" and turning them into products and art prints, I'm just painting away over here and enjoying every second. Effects that I spend so much effort and time to achieve with my Copic Sketch markers (blending, layering, texture) just magically appear on the page with a drop of watercolor pigment. It's completely liberating!
And the whole entire process is just. so. beautiful. The test paper is beautiful. The swirls of color on the palette are beautiful, even the paint stains on the paper towel are beautiful. And that makes me happy. It's exciting that so much beauty can just happen without a lot of effort. It makes me excited to keep creating.
I'm looking forward to seeing where this watercolor adventure takes me. I won't by any means be giving up my markers, but I'm relieved to have a little hobby again, something to experiment with and new things to learn.
Cheers to exploring something different and jumping out of your comfort zone. A new season is right around the corner and it's the perfect time to push the creative limits just a bit. Hopefully I'll feel confident enough by spring that I can take my paints with me on my garden walks!
Even though I'm a bit late, I hope you have a happy start to March!
xoxo