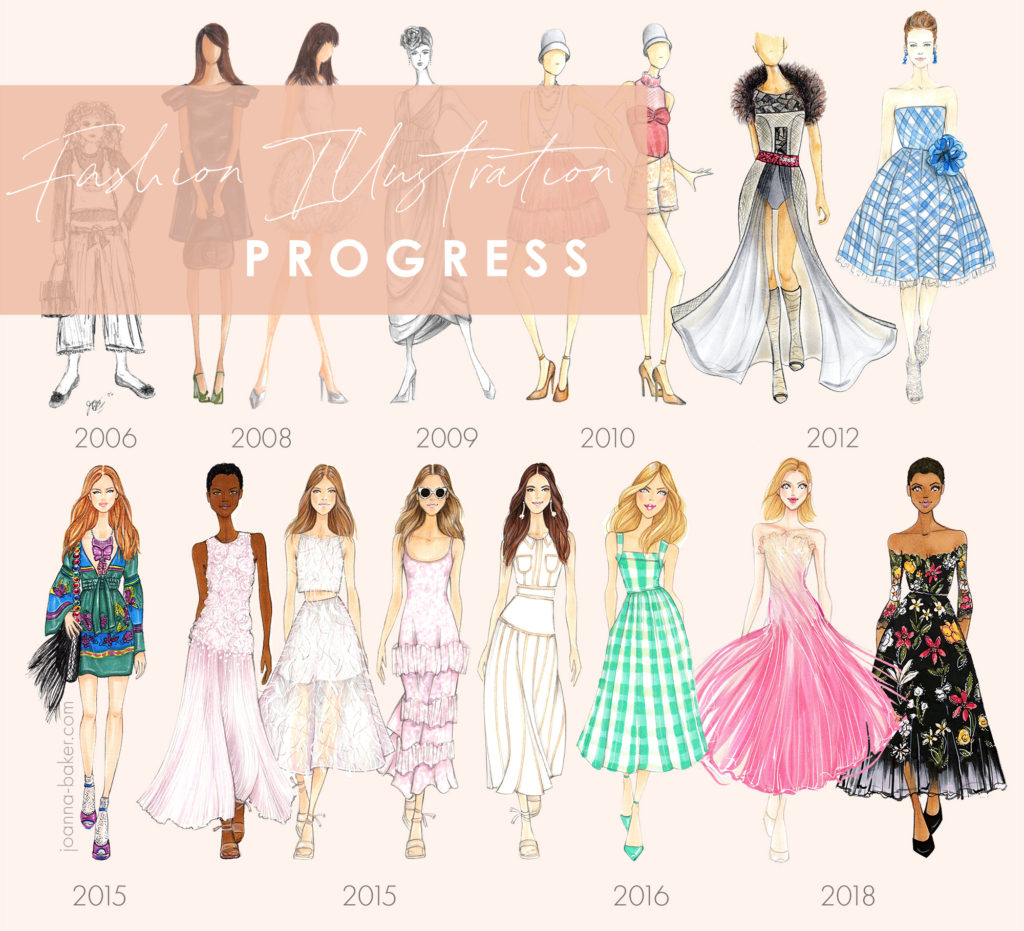 After you've been working at something for awhile, I think it's healthy to take a step back and see how far you've come, acknowledge that progress and let it inspire you to keep moving forward. After all, we don't start off being experts! It takes time to find our way and hone our crafts. My first "official" fashion illustration was what kicked off my entire fashion journey and I had no idea at the time that it would lead to someday owning my own illustration business. I want to share a bit of that journey with you here in hopes that it will inspire you to start wherever you are…
My goal in 2006 was to get accepted into a program that I hoped would change the course of my career path. I was currently in school, working towards a bachelor's degree in studio art but was interested in fashion design and wanted to see if it was something I'd like to pursue further. I sketched a little pencil drawing as my entry to Teen Vogue's first ever Fashion University – a weekend adventure in New York City where fashion enthusiasts could come together to talk with designers and get an insider's look into the industry. It was an amazing opportunity and I just happened to be among the first class of Teen Vogue students.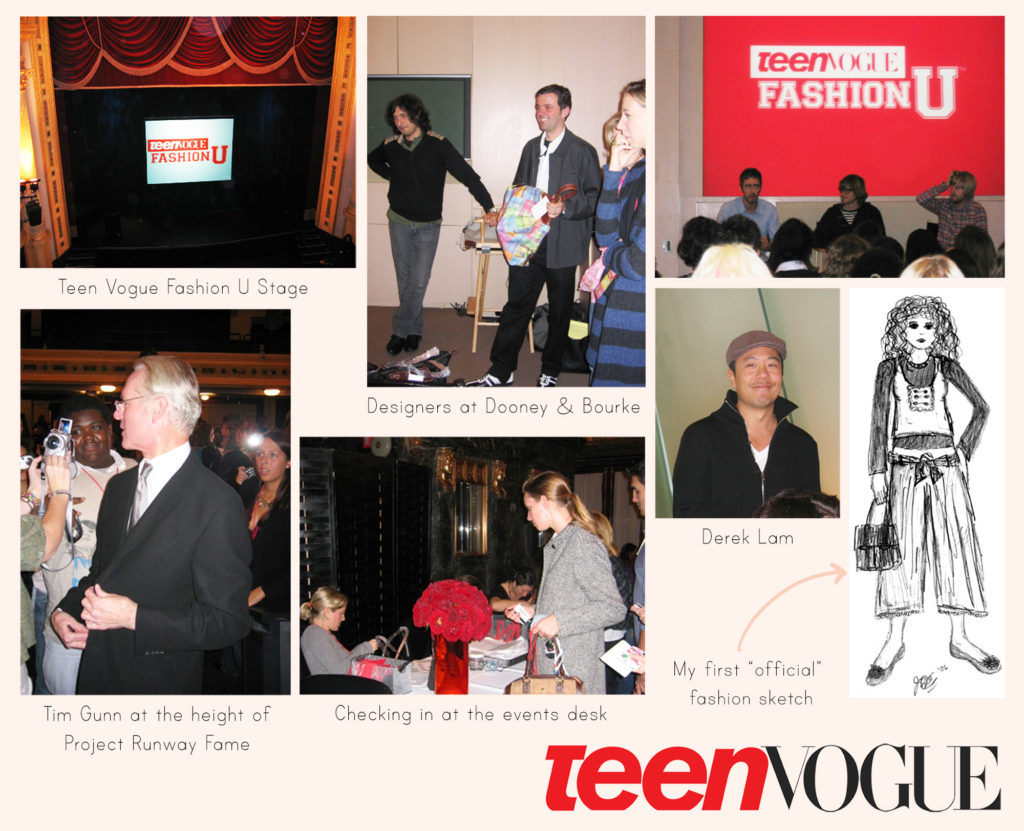 Looking back on it now, this little sketch was quite the starting point (LOL). She's kind of scary and a bit embarrassing to share but she's also my beginning, she got me accepted into Teen Vogue Fashion U that year and I owe her a great deal of gratitude. Two things I took away from that weekend in New York – absolute 100% intimidation + an immense desire to be a part of that world. My experience that weekend was what convinced me to pursue a fashion design degree, apply to Parsons School of Design and make the move to NYC.
While at Parsons, I took two fashion illustration classes with Lamont O'Neal. He's immensely talented and I always looked forward to his class. Sketching was my absolute favorite part of the design process. I remember being really caught off guard though, by the strange proportions and new art materials. It was the first time I had worked with artists' markers and for some reason, brush tip markers weren't as popular then as they are now. We used broad-tipped Chartpak and Prismacolor markers in school – super tricky!
By the time I graduated, my illustration skills were shaky and I was very unsure of myself. But the pressure was on to create work beautiful enough for a portfolio so I could start interviewing for jobs. It took about a year of practice outside of school – and the discovery of my beloved brush tip Copic Markers – to finally get my footing and begin developing my own illustration style.
In my online fashion illustration course I walk through my first two fashion portfolios in much more detail, but I wanted to share a peek here too so you can see how my work has progressed over time. I think it's fun to look back and see how an illustration style evolves as an artist experiments with different proportions and techniques.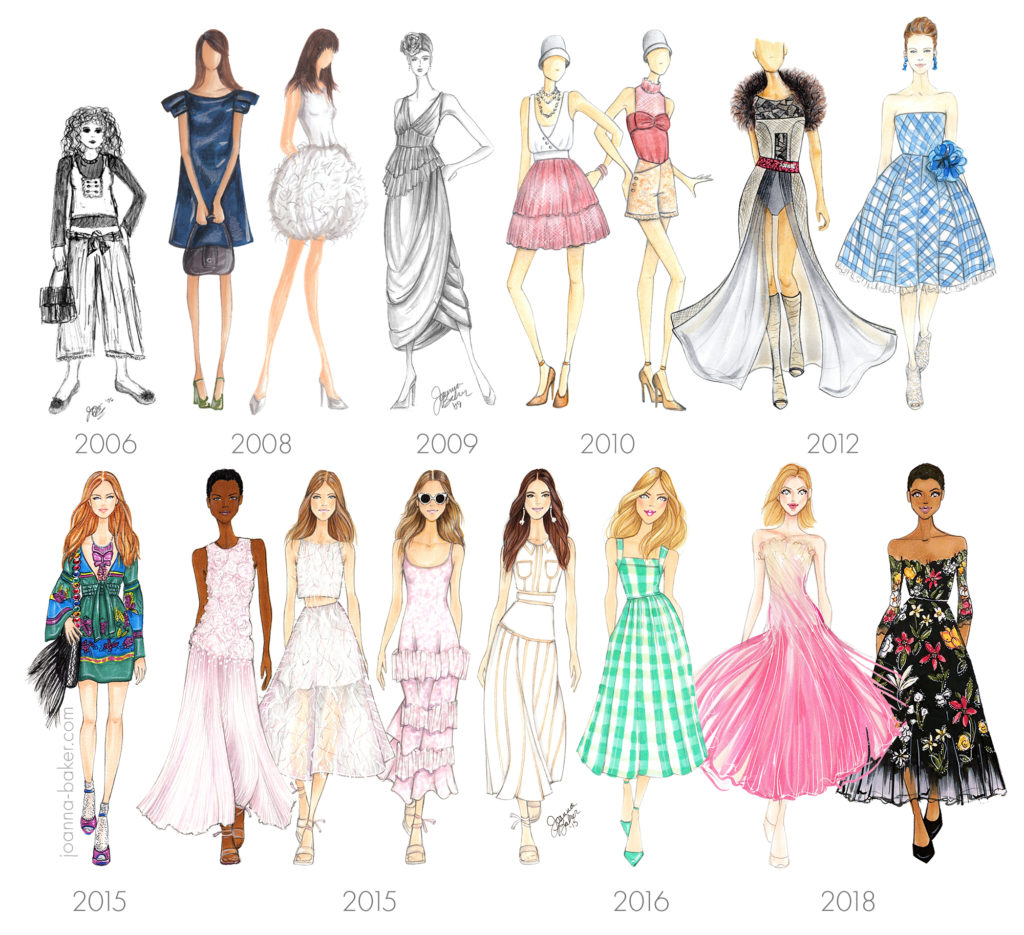 2006 – My sketch for Teen Vogue Fashion University
2008 – Sketches from my first fashion design portfolio created while at Parsons
2009 – Commissioned sketches for bridesmaid dress designs. I felt much more confident shading and rendering details with pencil.
2010 – Sketches from my second fashion design portfolio that I used for interviews and helped me land my first fashion design job. I discovered Copic brush tip markers and was officially hooked!
2012 – Design sketch from my winning dress in the Christian Louboutin and Bergdorf Goodman design competition, that same year I started sketching faces consistently on all my fashion illustrations and got better with practice.
2015 – My first invitation to sketch at New York Fashion Week for Anna Sui. That same year I began sketching all my favorite looks from fashion month and posting them to Instagram which really helped refine my technique & grow a following. I focused on mastering details like embellishments, hair and faces.
2016 – I was sketching consistently and practicing my fashion faces. This marked a turning point from a more realistic face to a more stylized face.
2018 – It wasn't until about two years ago that I finally reached the style that I currently sketch in now. The scale isn't as elongated as the proportions I learned in school, the faces are more stylized, but the garments are still super detailed and delicate.
That's how it all started… so what do you think? Not what you expected? Maybe you thought that it came naturally for me. I can promise you, that couldn't be further from the truth! If you have a passion for something, enough that it keeps pulling you back in, through interruptions or distractions or road blocks, at some point you just have to follow it!
I hope by sharing a bit of my illustration journey and how it all started, you'll be inspired to let go of your insecurities, pick up a pencil and pursue your illustration goals. It's never too late to begin, you just have to start wherever you are.
xoxo