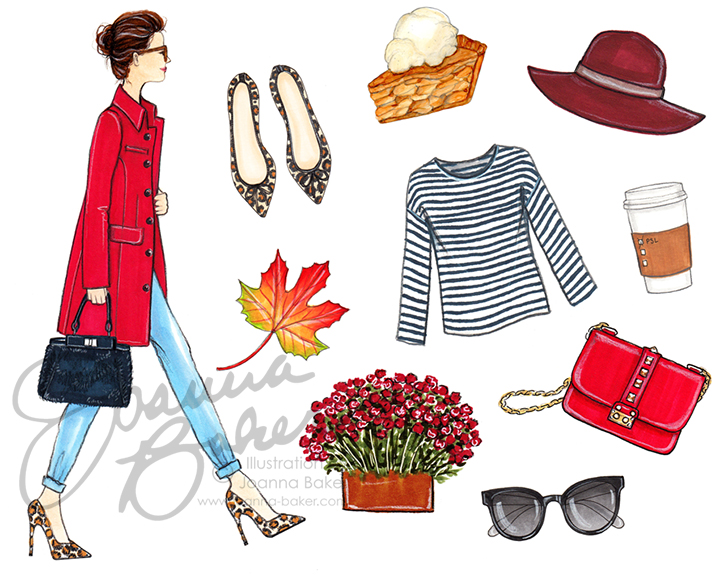 Happy new month!! I'm so excited for the change in seasons, some cooler weather, colorful coats, apple picking, cider donuts… I could go on forever… I think fall is my favorite!
There are a lot of exciting things happening this month including my little brother getting married! I can hardly believe it, in less than a week I'll be headed up to Vermont to celebrate. And on top of that, in just a few days (September 6th on my website and Etsy shop) the 2017 Favorite Things Calendar will make it's debut!!
It's my second year illustrating over 120 little sketches for the calendar and my goodness is it a labor of love. I already have some exciting ideas for next year's version which I'll share with you at the beginning of 2017 (hint: it involves some very special calendar girls!)
I have a bunch of other things in the works for this month, fashion week is just around the corner, bridal fashion week is not too far behind that and the inspiration will be endless! Of course we can't forget to enjoy this last long weekend of summer. And to celebrate Labor Day, I have a little surprise…
From now until Monday, September 5th, 2016 at 11:59PM EST I'm offering 20% your entire purchase on my website and Etsy shop! It's a last hurrah, end-of-summer sale and the perfect way to stock up on all your favorites. (Especially these little summer mugs!) Just use code SOLONGSUMMER at checkout.
I hope you all have a lovely and relaxing weekend ahead, get some sunshine and start dreaming of fall things!
xoxo,
~Joanna <3