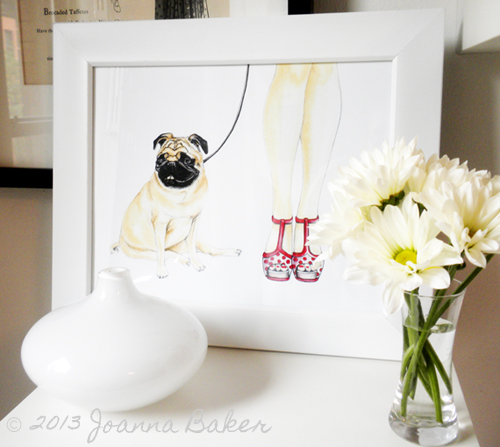 It's the end of the month and time for me to tell you that secret I've been keeping for the past few weeks…
I'm finally taking a leap of faith and opening up an Etsy shop to sell my illustrations!
This is something I've been thinking about doing for a long time… since 2009 to be exact. I had recently moved to New York and wanted to create a place to sell my illustrations, but school (and then work) got in the way and I never got around to listing anything in my shop.
Fast forward four years and nineteen days later, I finally have illustration prints and note cards up for sale! It's just a start and there will be more to come but I wanted to showcase some favorites from my blog archives in addition to some brand new pieces that are making their debut in the shop.
I'm so excited, I can barely stand it! And now I don't know what to do with myself. I've been working, working, working on everything to re-do my website and open the shop for the past couple of months and I just have to be patient and hope that it was all worth it =)
Sorry, that was a long one! Thank you so much for reading this, and thank you for continuing to come back to read my blog and see what new sketches I'm working up in my little studio. I am so grateful for the continued support and feedback I've gotten on my blog so far, you all keep me going… here's to the next step!
~Joanna <3
p.s. – This little pug print is now available in my Etsy shop! (Eeks- so excited I can say that now =)