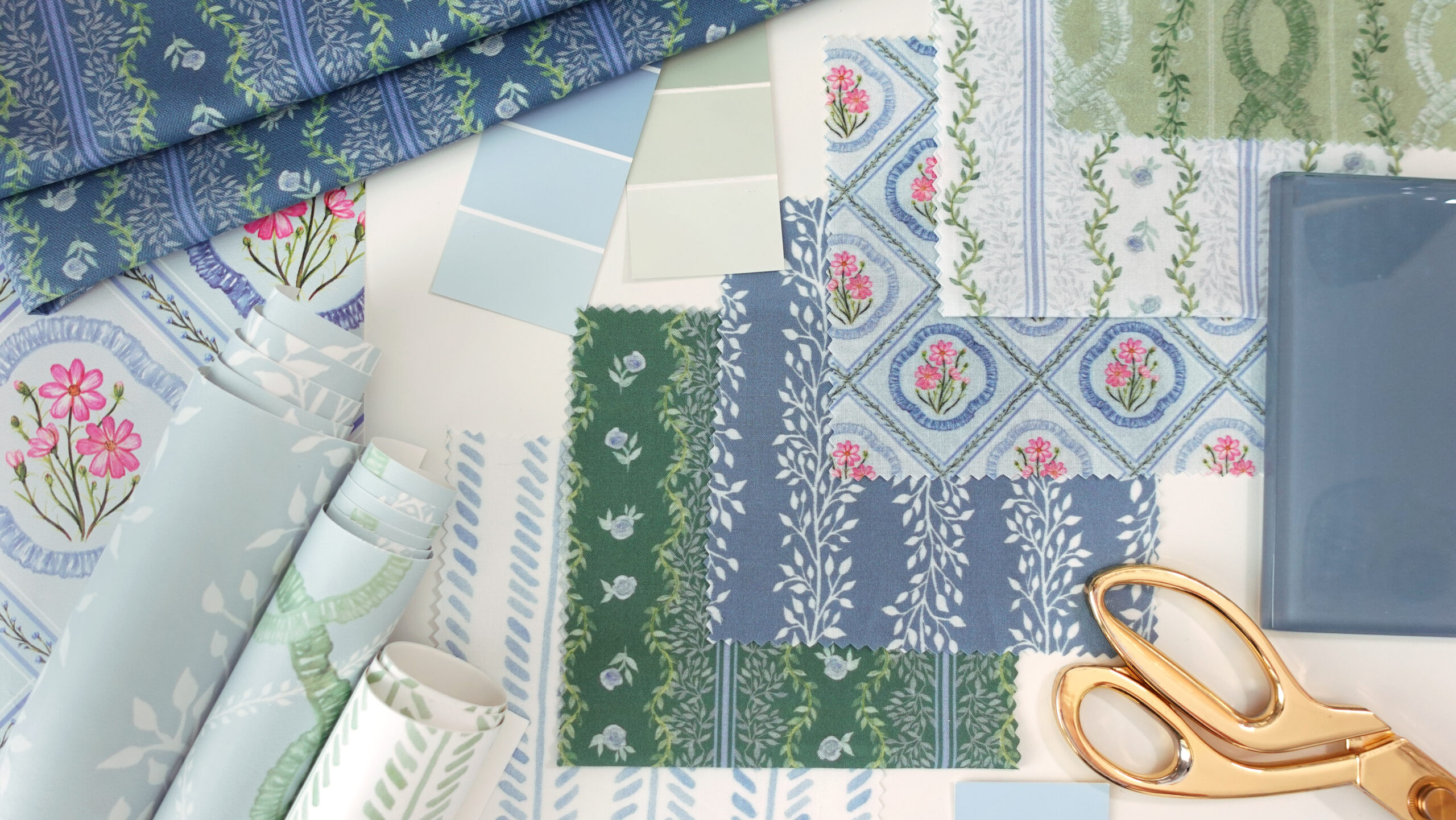 I am absolutely thrilled to share that my debut collection of textiles and wallpaper featuring my hand-painted watercolor designs are now available to shop on Spoonflower! This project has been a wonderful exploration into the world of surface pattern design and has given me the opportunity to stretch my creativity while learning new ways of bringing my art into the world.
Seeing my art on textiles has been a dream of mine since my fashion design school days at Parsons and it really feels like a full circle moment. 🥹 I just picked up this dress pattern and hope to carve out some time this summer to dust off my sewing machine and make myself a Strawberry Trellis dress! There are so many projects around the house that I have in mind for my textiles and wallpaper too- from recovering our dining room chairs to wallpapering our bookshelf, and trying my hand at pleated lampshades. The ideas really are endless and it has me so inspired to create in new ways!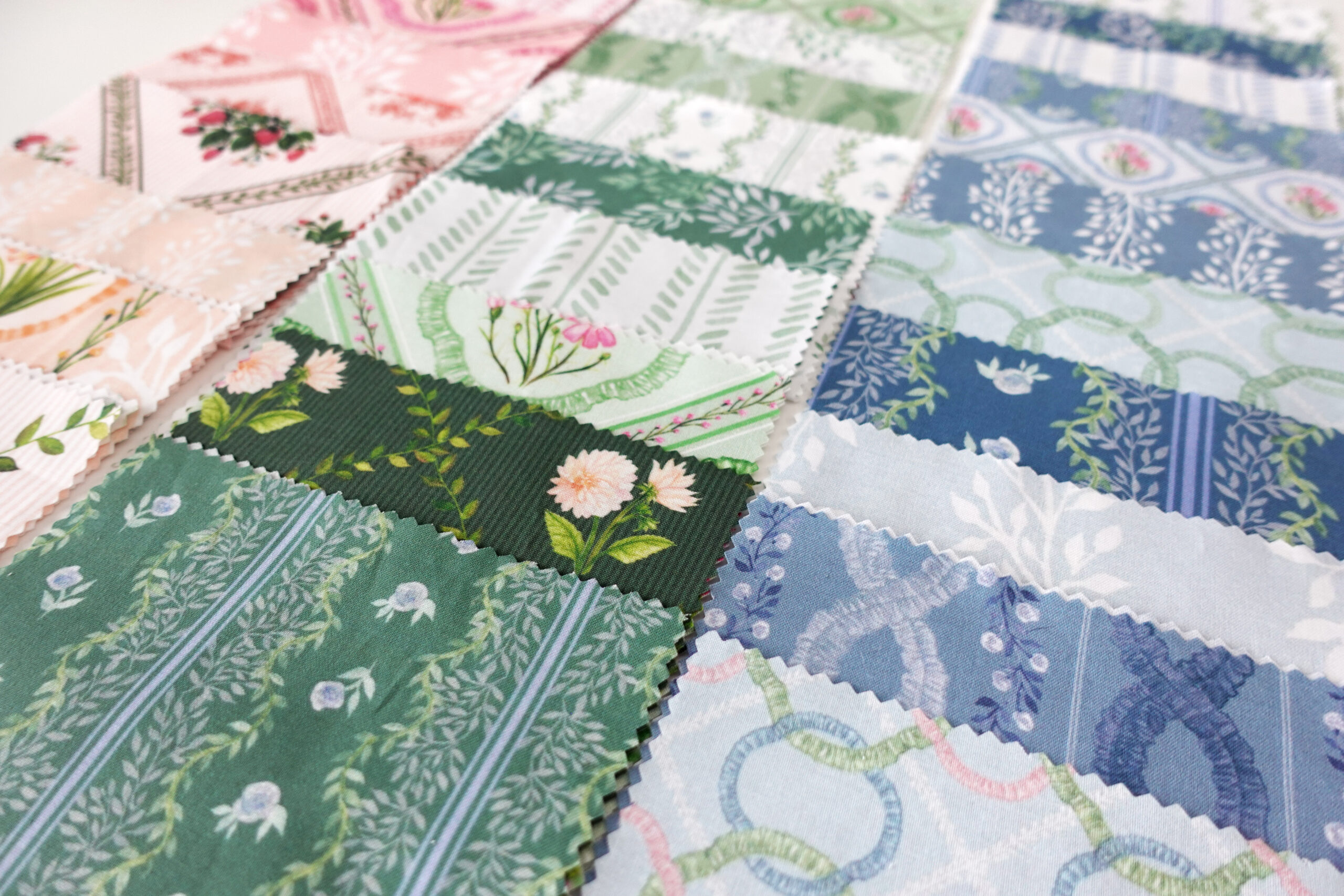 I was drawn to the natural colors found in the garden for this collection as many of the patterns use motifs directly inspired by the blooms from our backyard cutting garden. You'll also find lots of ruffles as I've thoroughly enjoyed bringing some of the Heirloom Egg motifs onto fabric and wallpaper. There are a total of 10 patterns and each of them are designed to coordinate with one another so you'll find that mixing and matching is super fun! Each pattern has at least one coordinating option but many can be paired with 4-5 different patterns and work so beautifully together.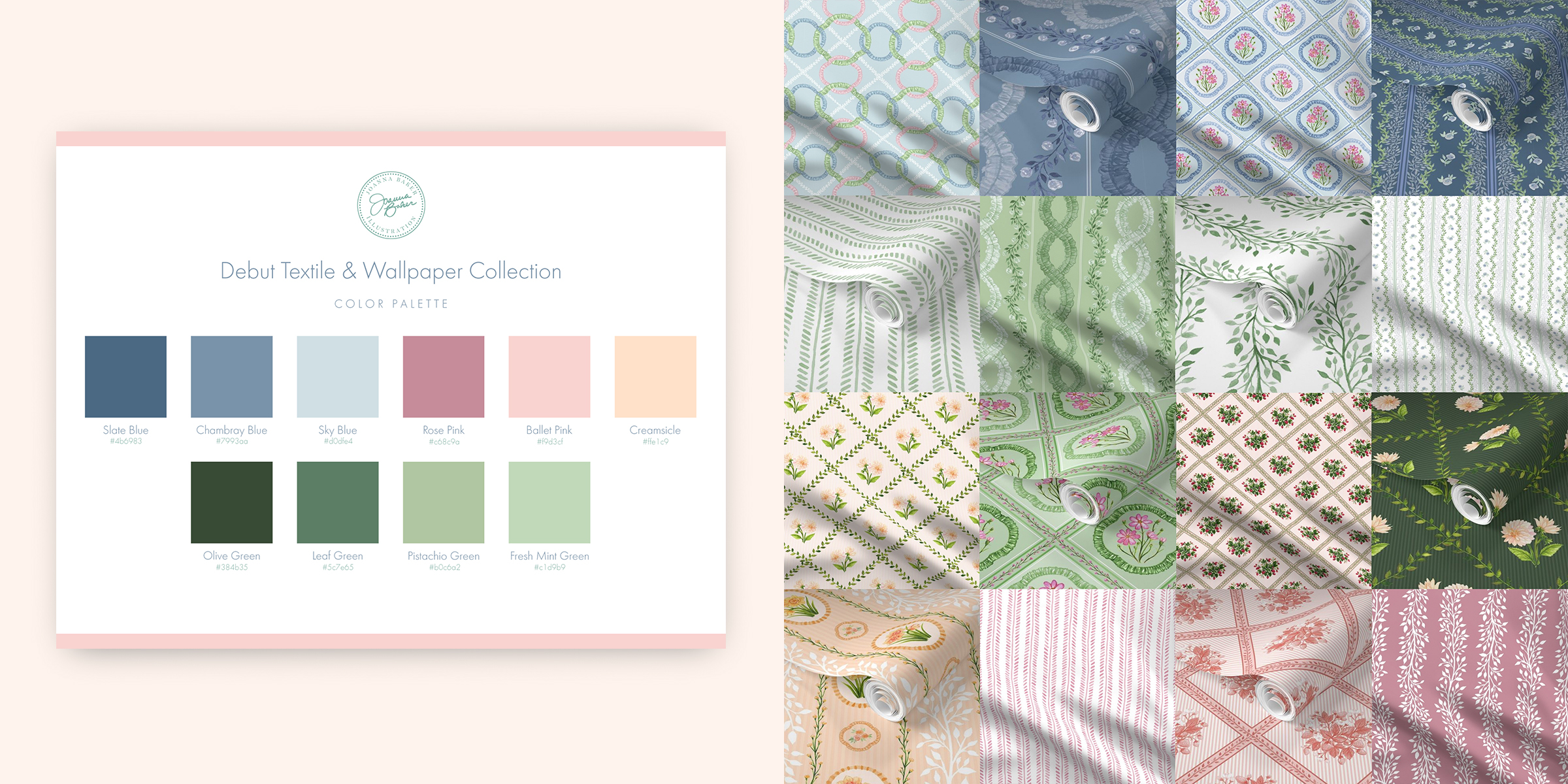 Working with Spoonflower allows me to focus on the creating while their amazing team prints, cuts, and packages all of your fabric and wallpaper just for you! I absolutely LOVE that my patterns can be printed on everything from the most beautiful chiffon to quilting cotton, Belgian linen and everything in between. I've designed many of the patterns in two different scales: the smaller size is suitable for apparel, accessories, and quilting while the larger size is perfect for home decor projects like upholstery and wallpaper. Speaking of wallpaper, there are four different wallpaper types available including luxurious grasscloth and renter friendly peel & stick – all showcasing my watercolor patterns beautifully.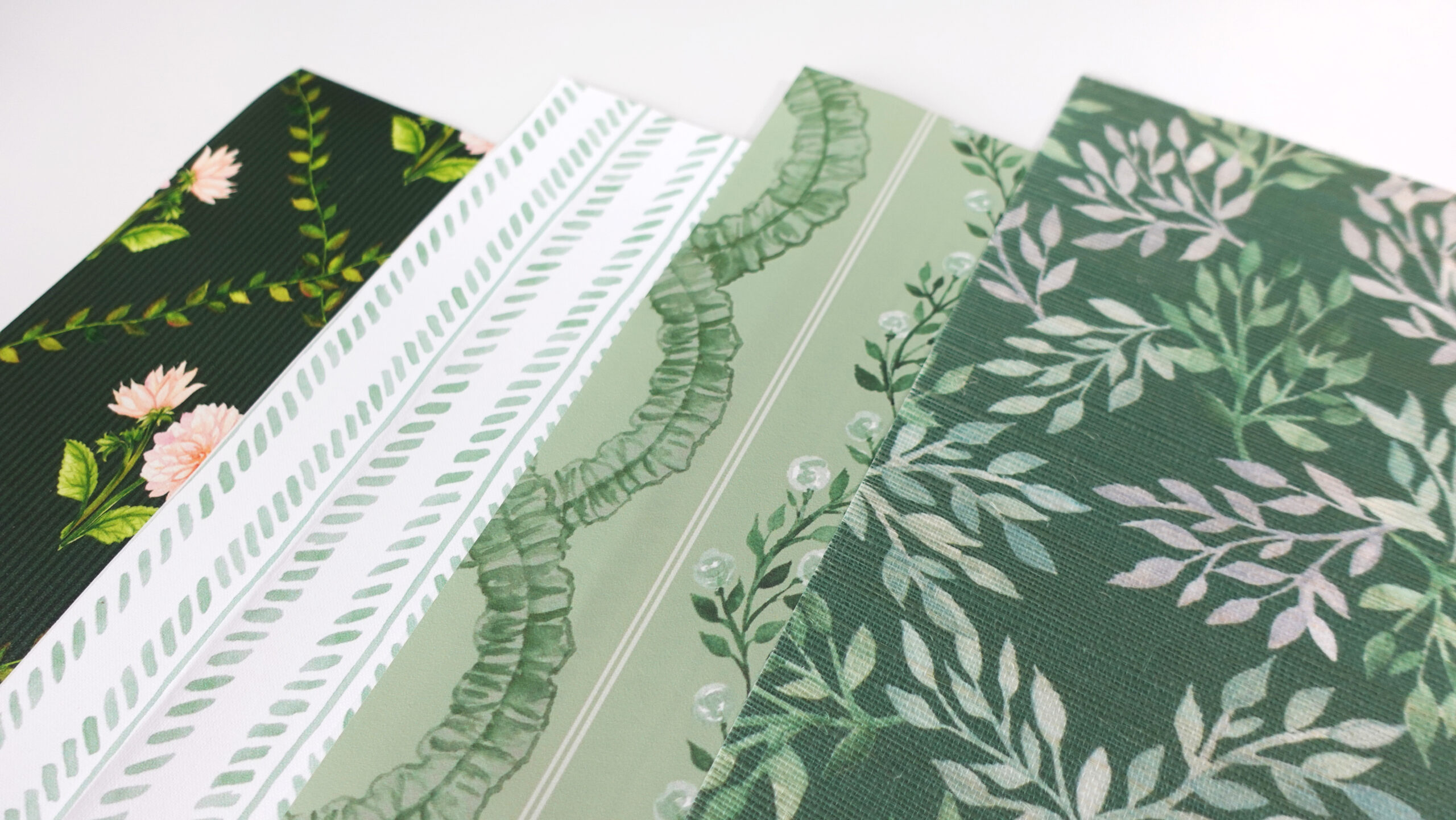 If you'd like to see the fabrics and wallpaper for yourself before committing to buying yardage or wallpaper rolls, I highly recommend purchasing super affordable swatches first to get a feel for the colors, texture, and scale. Fabric swatches measure 8″x8″ and wallpaper swatches measure 2'x1′. If you'd like to ensure that you get the entire repeat (and can see the full design) when purchasing fabric, I recommend ordering a "Fat Quarter" instead which measures 27″ x 18″.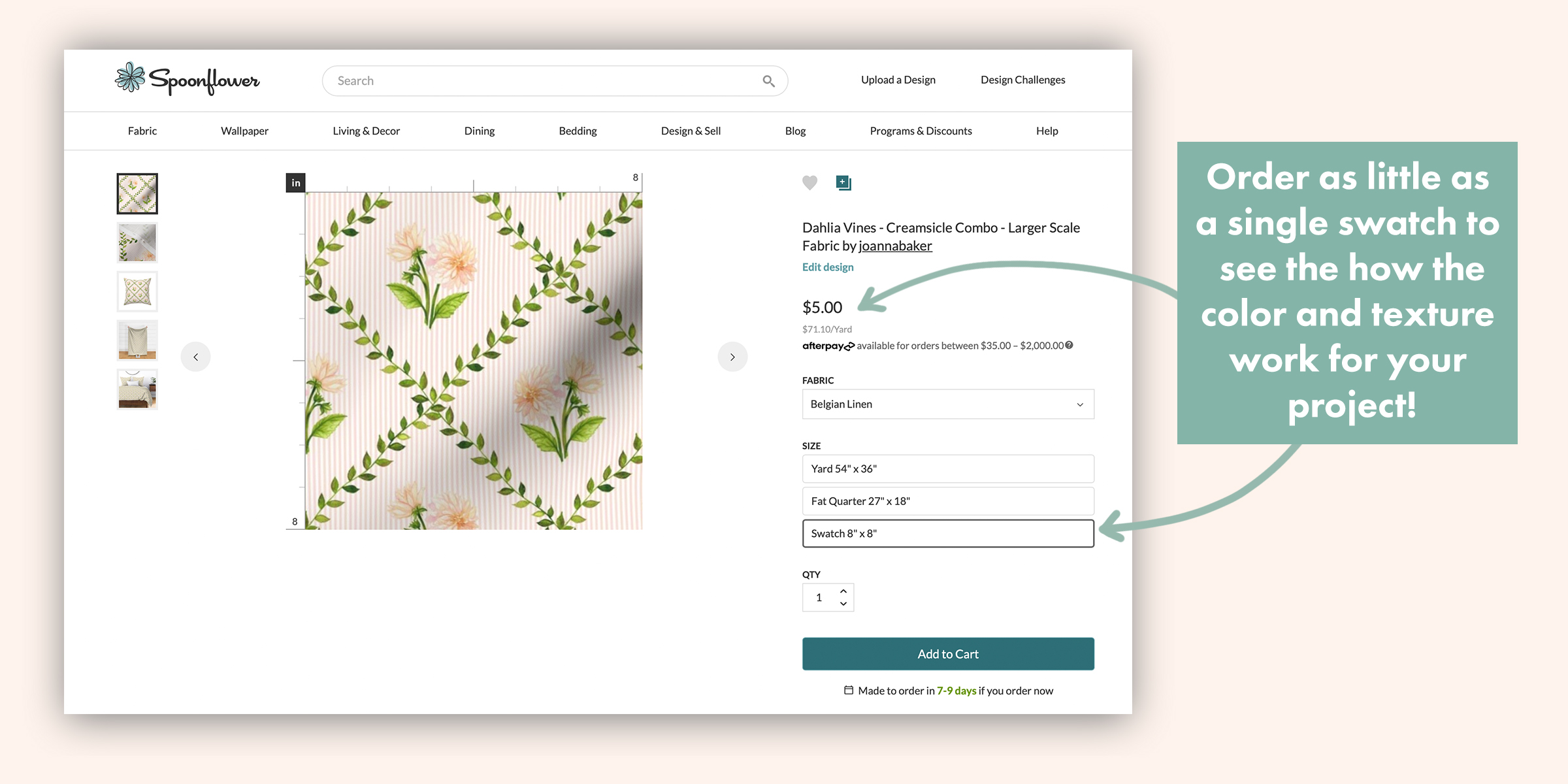 This entire project was such a labor of love and it will mean the world to me have you welcome my artwork into your homes in this new way. I can already envision these patterns gracing the walls of powder rooms, home offices, bedrooms, and dining rooms! I mean, how beautiful is the Cosmos Ruffle print in Sky Blue with contrasting blue accent walls in a jewel box of a powder room? I plan on putting together many more blog posts in the future with recommended paint colors, coordinating prints that work well together, and DIY projects of my own using these debut textiles and wallpaper. Stay tuned!!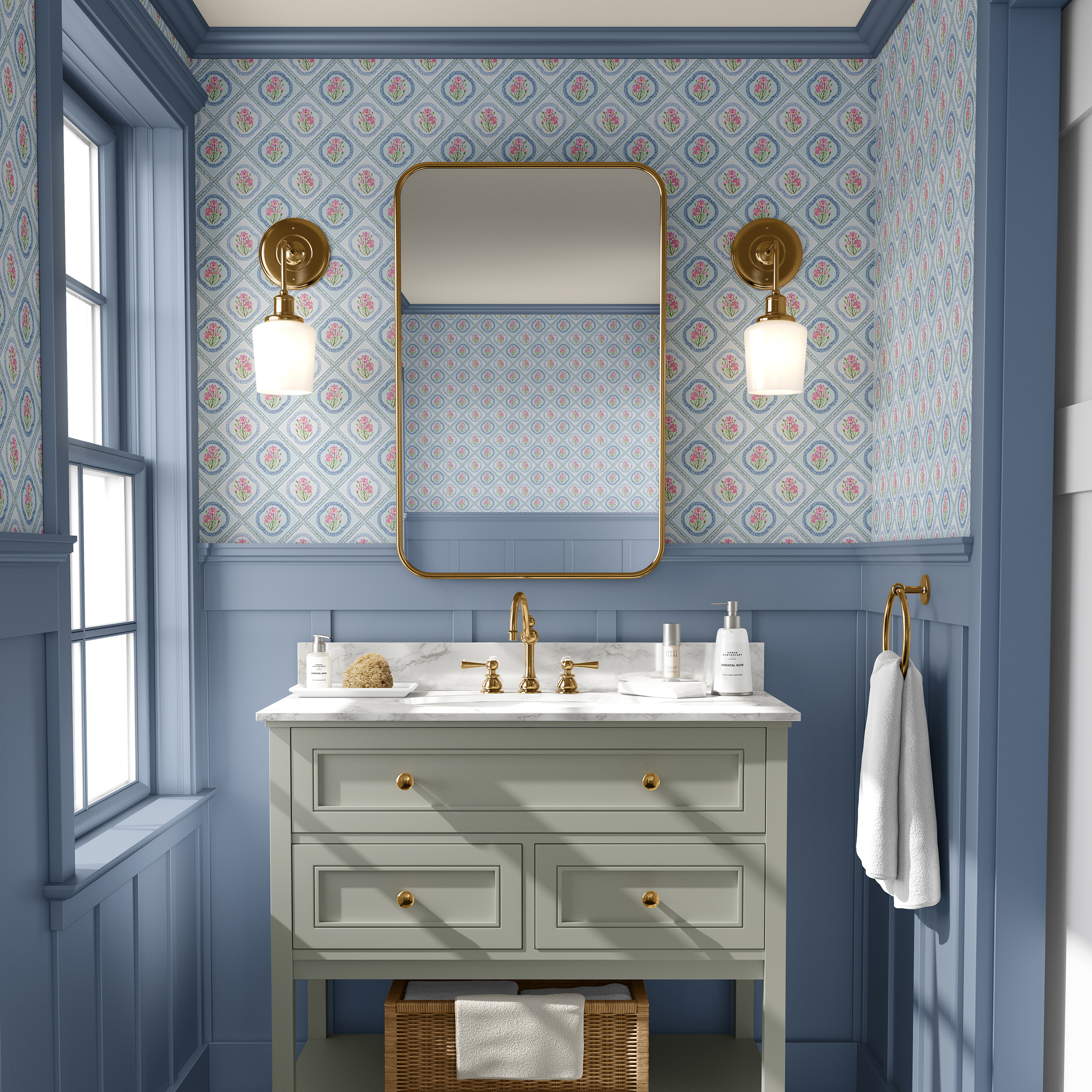 Thank you so much for your support in this next creative adventure 💫
I can't wait to see what projects you create and spaces you transform with these designs!
xoxo,