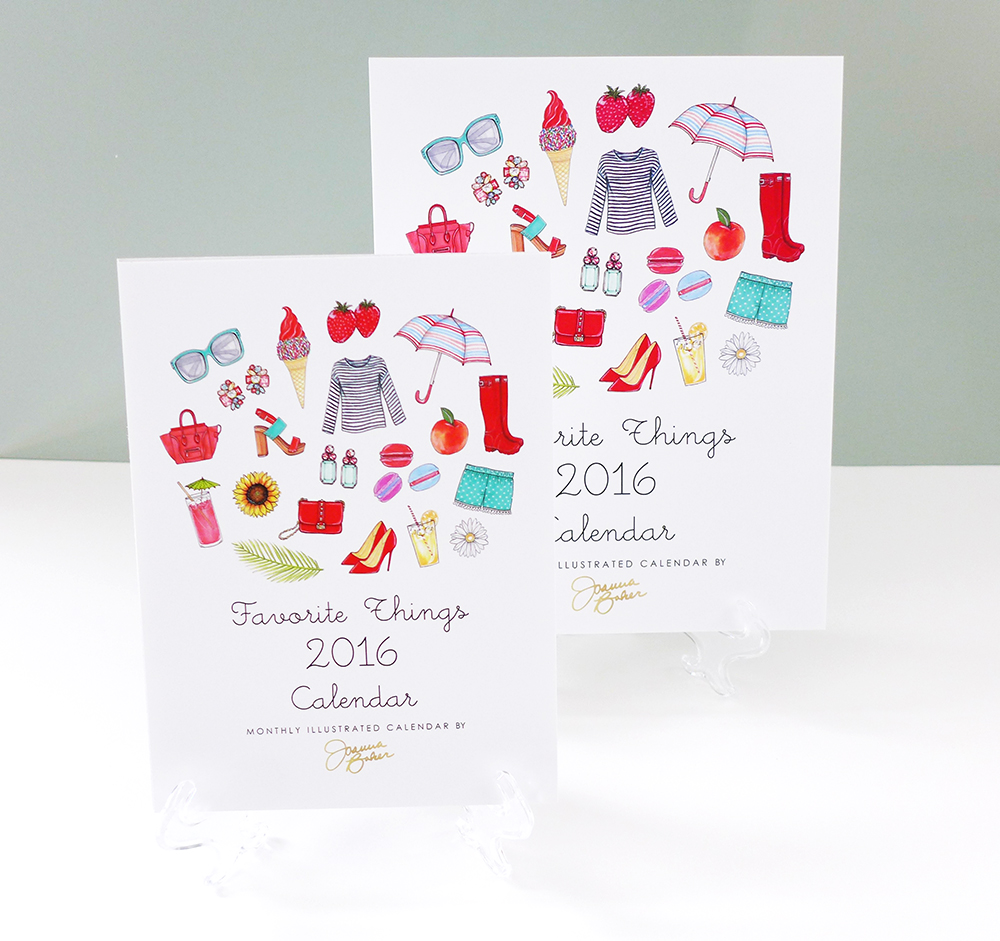 Hello lovelies!! I hope you had (and are still having) a wonderful and relaxing holiday with friends and family. I'm reporting from my parents' home in the country and it sure does feel good to get out of the city! Just being here makes me instantly more at ease and I've realized I definitely need to take more breaks and go on more trips!
I'm super excited to announce the launch of a very big project I've been working on since July. It has definitely been a labor of love and I'm so happy to finally be able to share it with you: this year marks the release of my first ever illustrated "Favorite Things" monthly calendar! Every month in 2016 is filled to the brim with little illustrations of all my favorite things.
Since leaving my full-time corporate design job back in January, the past eleven months have been amazing in more ways than one… amazingly freeing, motivating, challenging, inspiring… I wanted to commemorate my first year of working for myself with a special project, one that embodies who I am as an illustrator and what I love most… my favorite things! I hope that you'll find some of these illustrations happen to be your favorite things too =)
And to celebrate all of this as well as the mega-shopping-long-weekend that is Black Friday, Small Business Saturday, and Cyber Monday I'm offering a surprise sale on everything in my online shop and on Etsy! Use code SUPERSALE20 to get 20% off your entire order Friday November 27th, through Monday November 30th!
And as an extra surprise with a cherry on top, all of my cell phone cases in my Casetify shop are 30% off with free shipping now through Monday when using the codes below:
Black Friday weekend: use code ILOVEBF for 30% off + free ship from Nov 27-29 PST for CASETIFY phone cases
Cyber Monday: use code ILOVECM for 30% off + free ship on Nov 30 PST for CASETIFY phone cases
Happy shopping and I can't wait to start sending calendars off to their new homes! =)
~Joanna <3
P.S. – Today is the last day to order custom framing on all art prints in order to get them in time for Christmas!! UPDATE — Deadline for custom framing extended to December 4th!