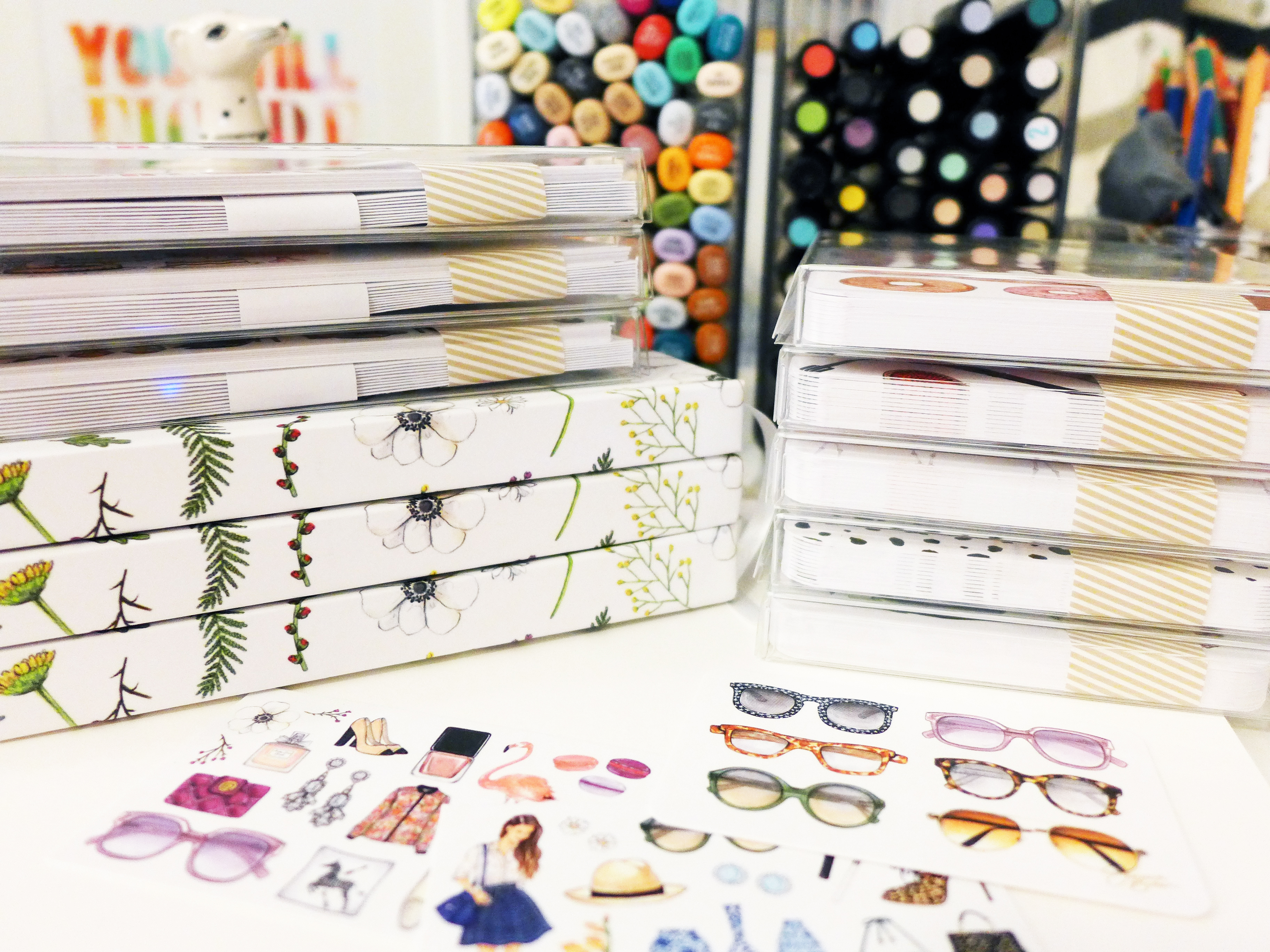 Happy Tuesday! I've been busy working on prepping for the fair but thought I'd take a moment and share a bit about the behind the scenes stuff… the stuff that happens when you quit your full time job and take a leap of faith…
I can't believe it's been four months now since I left my corporate fashion job. There have been so many emotions that have gone along with it and getting used to a new way of living and working is still a work-in-progress. I feel like I'm far from figuring it out but I do know that I'm headed in the direction of something that makes me happy!
Some of my favorite things so far about freelancing:
1. Being able to prepare and eat healthier meals — this seems simple but having the time to grocery shop and plan to eat a proper breakfast, lunch, and dinner makes a huge difference in my overall well-being!
2. Setting goals and having the freedom to work at my own pace to achieve them — I've always worked best when I understand what's expected of a project, know the deadline, and then am left alone to prioritize and get the job done. Freelancing definitely feels right in that sense.
3. Having the flexibility to schedule things in the middle of the day — this makes going to doctor and dentist appointments so much easier!
4. Taking on more custom illustration projects that make me happy — my greatest joy so far in all of this is getting to work with lovely new customers to create unique pieces of art for them. I love packaging up an original creation and sending it off to it's new home knowing that someone is super excited to get it on the other end or send it as a special gift!
Some of the things I'm still getting used to:
1. Not having a team of people to bounce ideas off of — it's been an adjustment not having someone else to turn around and ask a question or see what they think about something… I do ask Junebug a fair amount but she doesn't seem to have too many opinions about my work or business goals =)
2. Feeling connected to coworkers and working towards a shared goal — there is definitely something to be said about everyone working together to get something done. Freelancing is often a one person show and it can be isolating. It helps to reach out via e-mail or in person to other artists and freelancers. Even making a simple connection through Instagram helps to keep that human interaction alive.
3. Not knowing who/what/where I will work next and taking opportunities as they come — this is all still new to me and right now I'm getting a feel for the amount of work, type of work, and how to keep more consistent work.
4. Having to advocate for myself 24/7 and consistently putting myself out there — I feel like I'm either actively working on or thinking about some aspect of my business every waking minute. When it's all up to you, figuring out how this will all work consumes your thoughts. This is both really exciting and really terrifying! I try to balance out these thoughts with a healthy dose of perspective, getting out, going for a walk, running unrelated errands, etc. but I'll be the first to admit that these thoughts are a beast to wrangle with.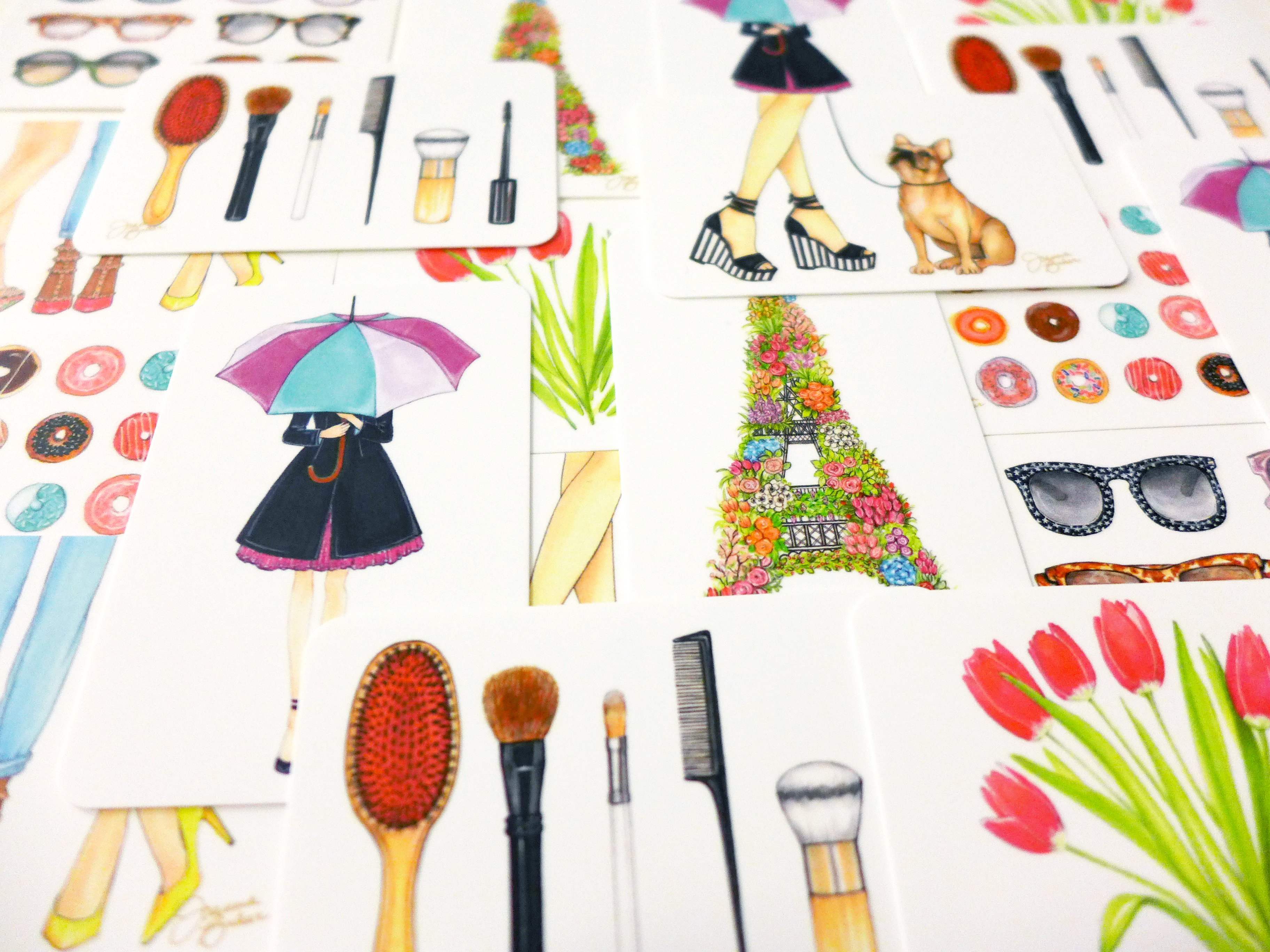 I have to remind myself that some amazing things have happened in these past four months. I've had some wonderful Instagram features from Essie, Birchbox, Copic Markers, Carolina Herrera, and Bergdorf Goodman, I have built and launched my own online store with brand new illustrated stationery and gifts, I got accepted into Renegade Craft Fair and will be debuting all my work for the first time ever in public on June 6th. (So excited for this!!) These things may seem small, but it's the little things that eventually add up or lead to bigger things. And even though I don't know what the future looks like exactly, I have to continue leaping and know that what I'm doing will add up to something great!
I hope you have a wonderful, productive week and if you'd like to see more behind the scenes photos, be sure to follow me on Instagram =)
~Joanna <3