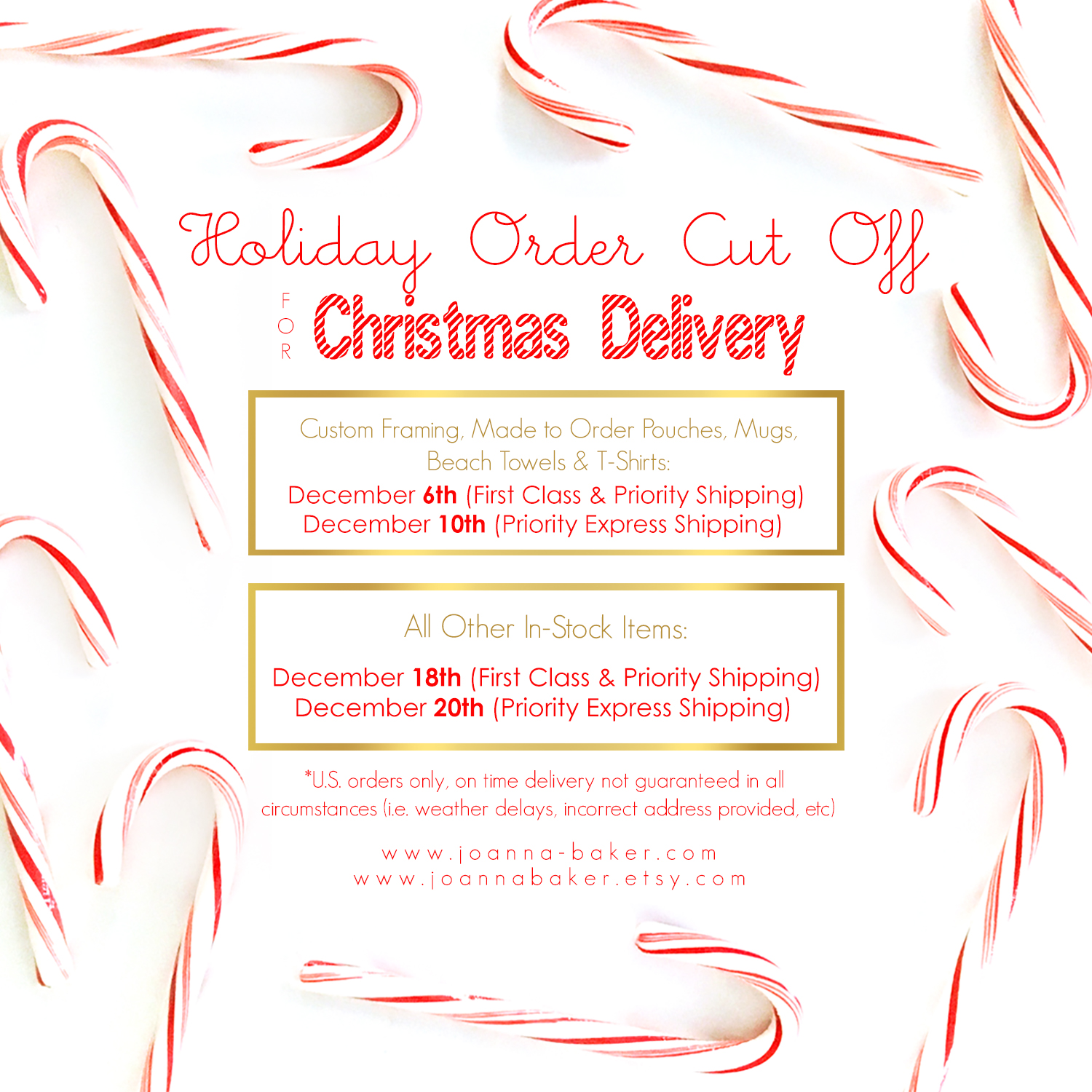 As December approaches, it's time to start making your list and checking it twice! I want to make sure all of your orders are delivered in time for the holidays. There are two types of items in my online store and Etsy shop and they have different cut off times. Let's go through all the details so you don't miss out this season!
Made-to-order items including custom framed art prints, personalized wedding journals, pouches, mugs, beach towels and t-shirts all require an additional amount of production time so the last day to purchase those items in time for Christmas delivery is December 6th with First Class or Priority shipping and December 10th with Priority Express shipping.
The majority of the items in my shop are in-stock items including unframed art prints, ornaments, stickers, cards, luggage tags, gift wrap, gift tag labels, and calendars. They're all stocked in the studio and ready to ship! The cut off date for in-stock items is December 18th for First Class & Priority shipping and December 20th with Priority Express Shipping.
All in-stock items can still be shipped internationally! The cut off time for First Class International and Priority International mail for Christmas delivery is December 6th. For Priority Mail Express International, the cut off is December 12th for most destinations outside the U.S. Africa, Central & South America deliveries have a cut off of November 28th (First Class International & Priority International) and December 6th (Priority Mail Express International).
Phew! I know that was a lot, but I just wanted to put it all out there so you can plan ahead! I'll be busy as a bee packaging up orders and running to the Post Office through December 22nd. After that, I'm leaving the studio for holiday break and will be back January 1st. You can still purchase items in my online store and Etsy shop during that time, just keep in mind that all orders placed while I'm away on holiday break will begin shipping on January 2nd.
Thanks so much for your support this holiday season and I can't wait to wrap up all of your orders and send them off to happy homes!!
xoxo