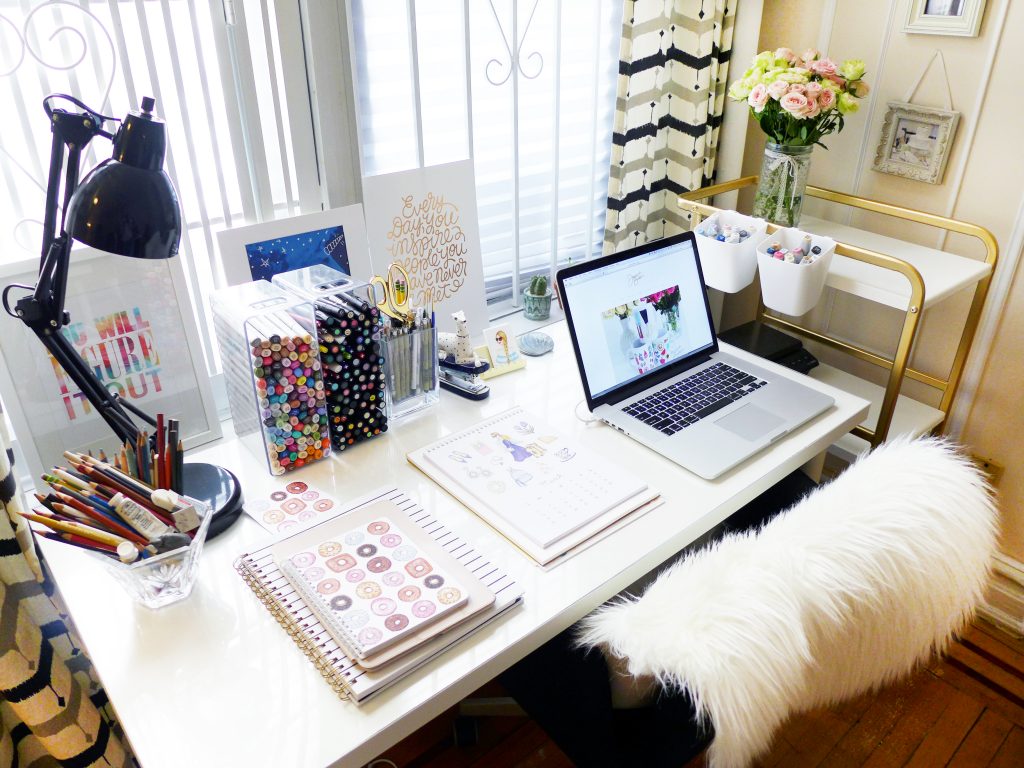 Hi friends! I'm excited to reveal a glimpse into my home studio space and share how I spruced up my storage with a DIY art cart project. I'm really happy with how everything turned out and I'd love to know what you think!
Desk details:
Furniture: Desk, Chair & Cart from Ikea. I purchased a piece of plexiglass from my local hardware store and had it cut to fit my desktop to protect it from ink marks.
Faux Sheepskin: Lulu & Georgia
Curtains: West Elm (no longer available but they have so many cute patterns)
Lamp: Can't remember (I stole it from the hubby's desk awhile back but I've been on the hunt for the perfect gold one so I can give his back LOL)
Marker Storage: Container Store (On Sale!) These bins work great because I can pick up the containers and easily fit them in my travel bag when I want to take my work with me. I've found that storing my markers flat as opposed to upright helps keep them from drying out on one end.
Gold Scissors: Nate Berkus for Target also great for styling photo shoots, but be careful they're super sharp!
Business Card Holder: Sugar Paper for Target
Cactus: Lolo Plant
Stapler: Anthropologie (no longer available but this one's cute too)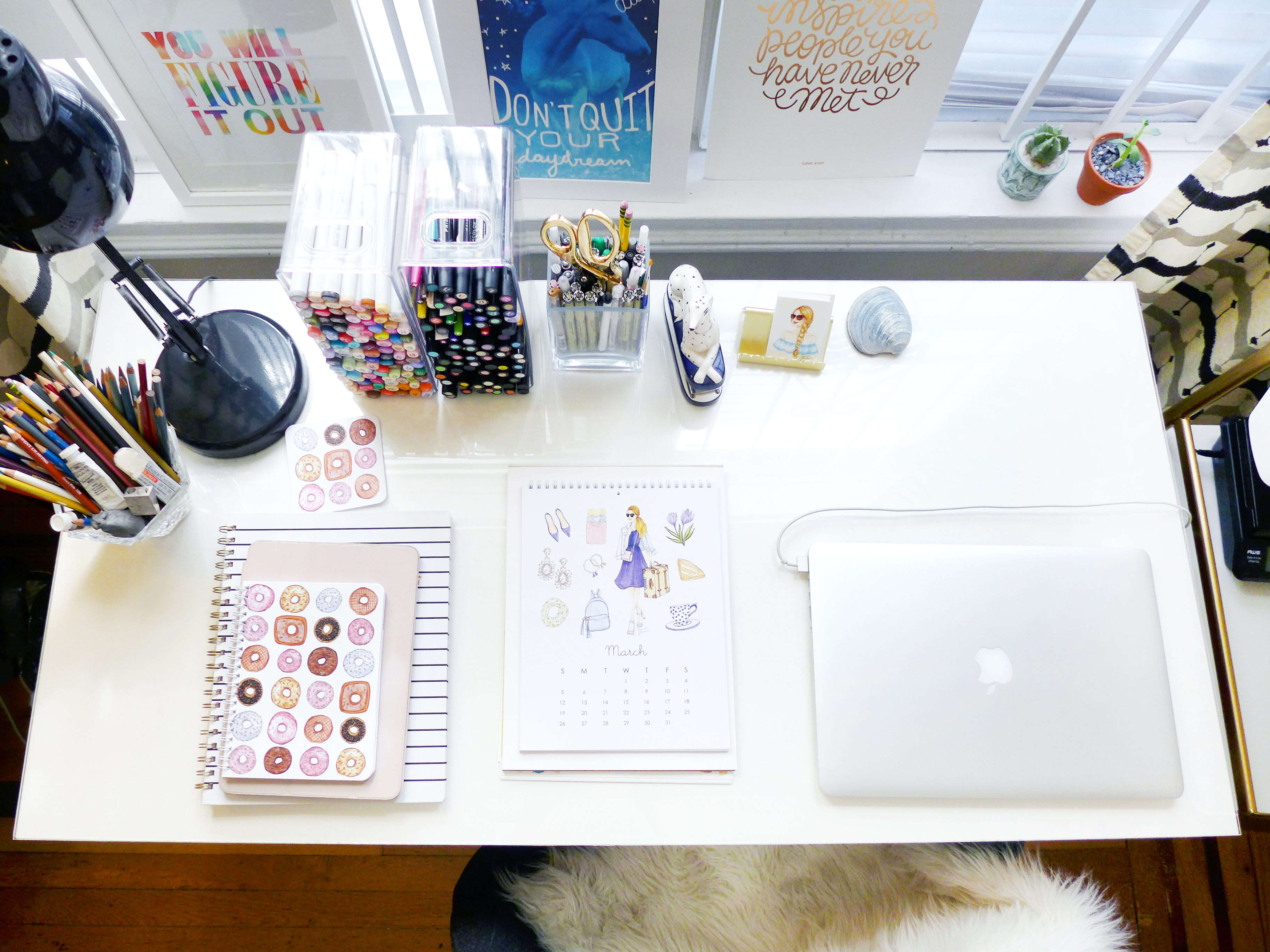 I'm fortunate enough to get a decent amount of natural light from the windows and the white shades help diffuse it (perfect for taking all those Instagram shots!)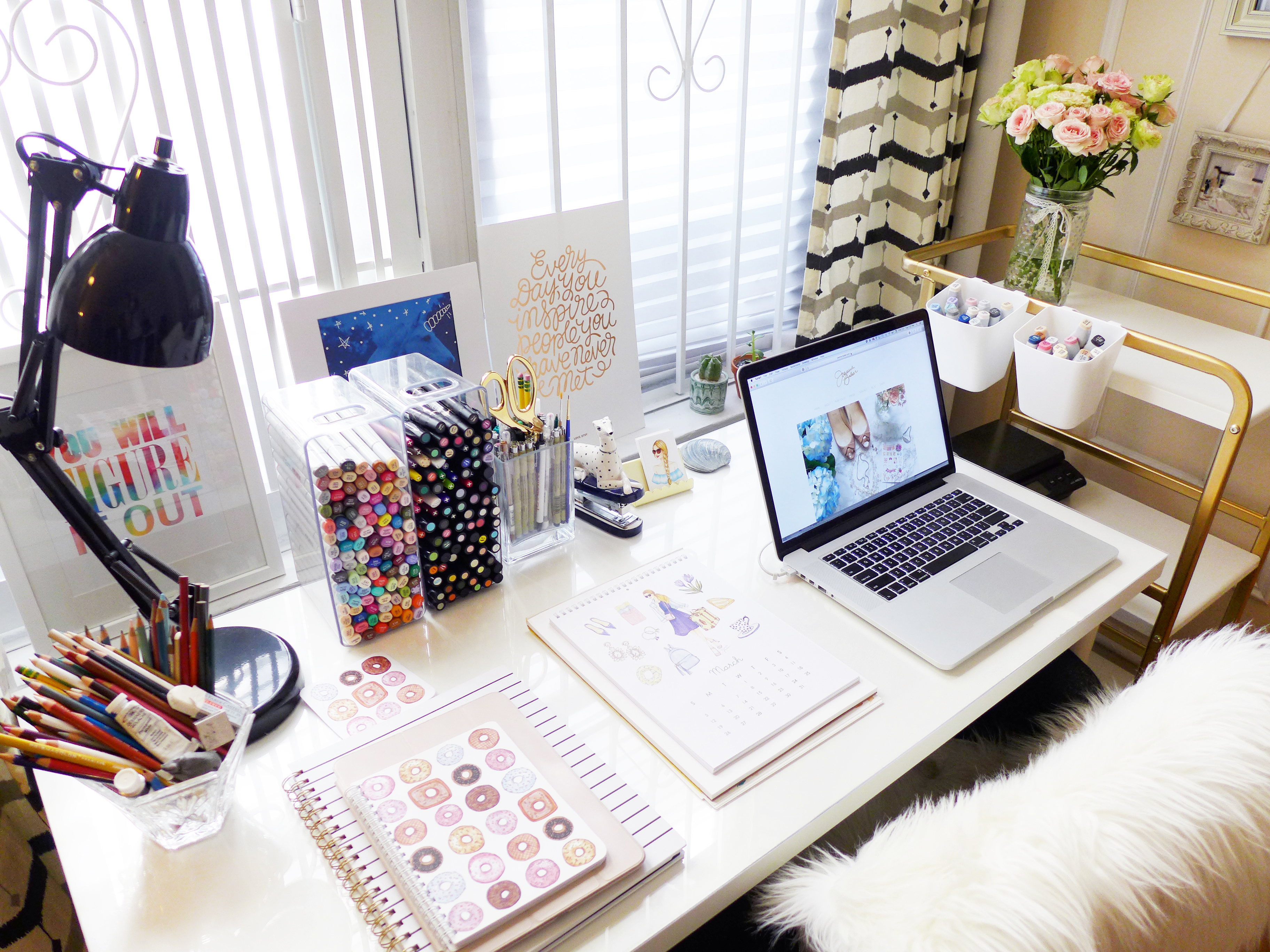 I'm still in the process of stocking up my brand new art cart with all the things I use daily for my business. I really love that this one has three shelves, the more traditional bar carts I was looking to purchase only had two. Right now, it's holding all my Copic Marker refills, my scanner and a package scale. I may switch things up though depending on what works best. I'm going to try and avoid cluttering it up though!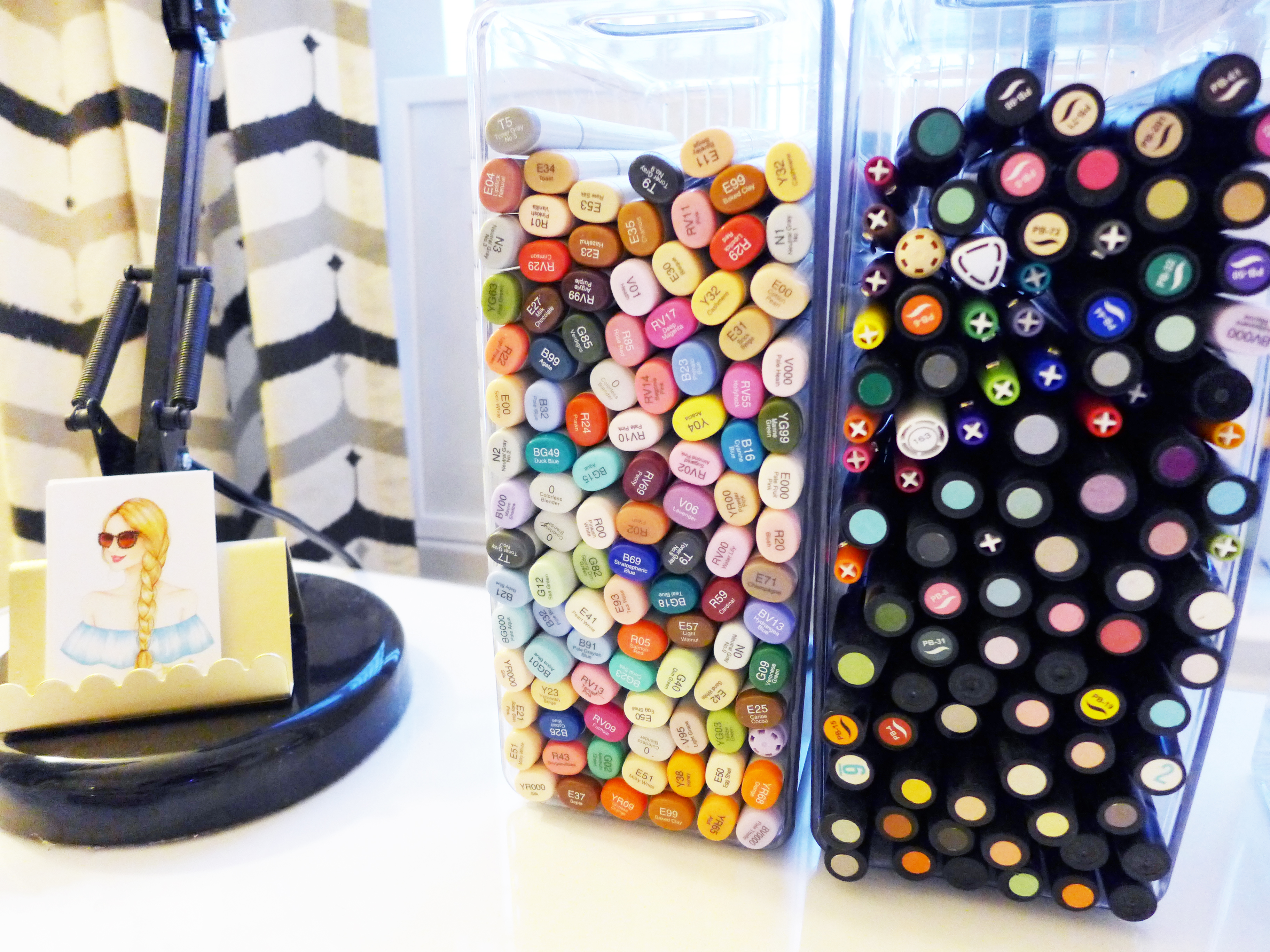 Where would I be without all of my markers?! My favorite brand is Copic but I have quite a few Prismacolor and Chartpak markers from my earlier fashion design school days. I'll usually go to Blick Art Supply and stock up on all my favorite art supplies. I like using Micron pens and Prismacolor colored pencils for fine details. And my secret weapon for highlights: a soft white colored pencil, white gel pen, or gouache applied with a teeny paint brush.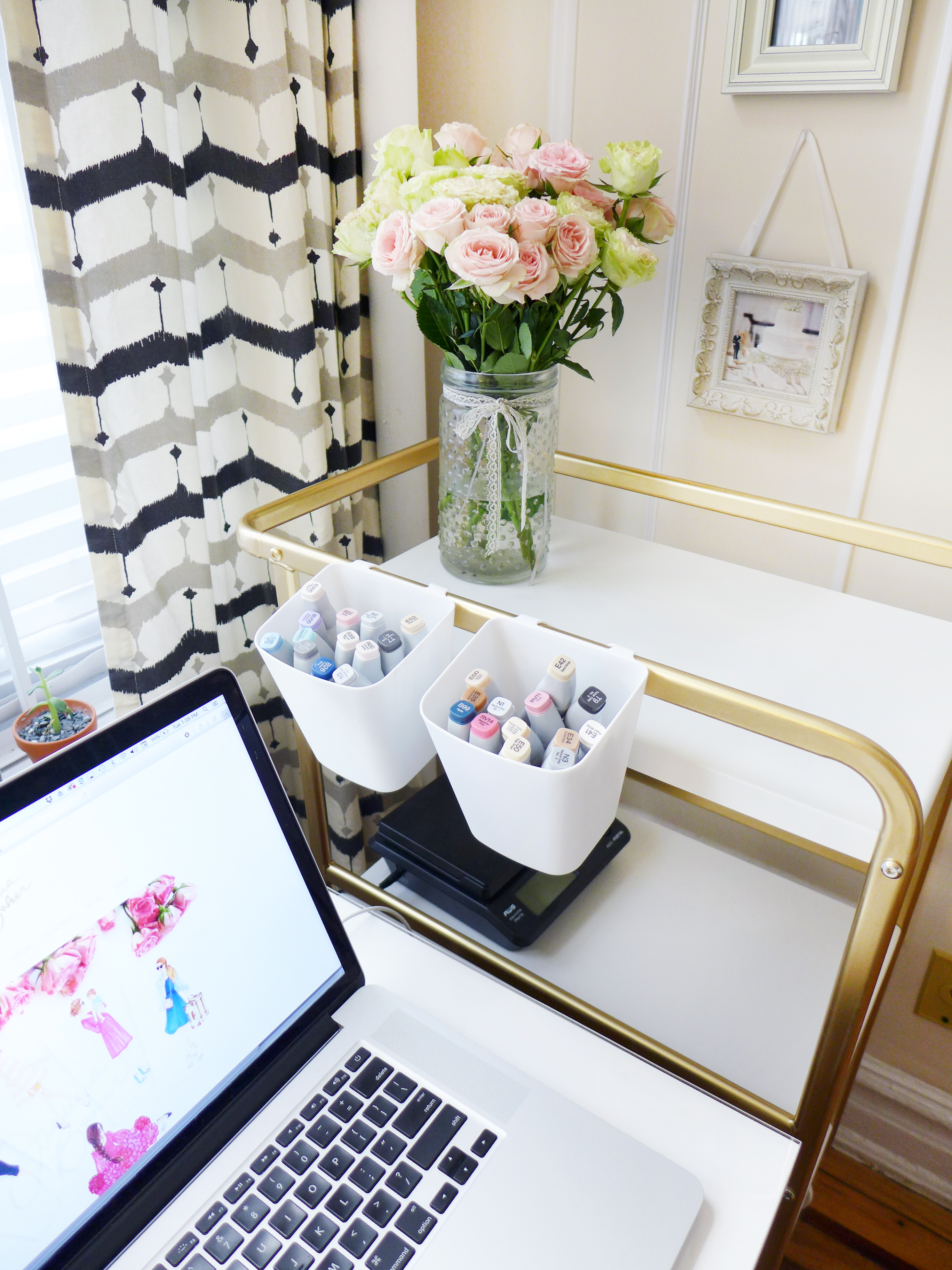 I've been collecting more and more of the Various Ink refills for my Copics. It really is cost effective and while I was intimidated at first to refill them, now I don't think twice about it. For all of my most used shades, I buy the refill ink and replace the marker nibs when they wear out.
Here's a quick tour of my entire studio space, now up on my YouTube Channel…
Cheers to spring cleaning and organizing =) I hope you all have a great weekend!
xoxo
~Joanna <3