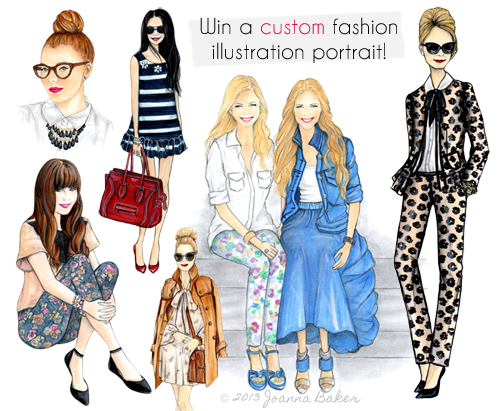 I had always hoped that starting a blog would lead to exciting things. But I never expected to have such sweet, caring, and supportive readers!  Kelsey Murray of Tickle Me Pink Style is just that.
After finding out that Kelsey graciously included me in her 'Link Love' friday post last week, I reached out to thank her. And before we knew it, we were working to create a fabulous giveaway for our readers! This week, I've teamed up with Kelsey to give away a custom illustration dreamed up by yours truly!
Get ready to have your favorite outfit immortalized in pen and ink with a fashion illustration portrait for your office, dream closet, chic apartment, etc. You send me a photo of yourself in your favorite look (or send me images of a look you wish was yours) and I'll turn them into a lovely fashion illustration ready for framing.
To enter, head on over to Tickle Me Pink Style! The winner will be chosen at random on Monday, September 23rd. Good luck!! =)
In addition to Kelsey's lovely blog, she can also be found on Facebook, Twitter, Pinterest, and Instagram… I can't wait for her recaps of fall fashion week!
~Joanna <3
* Please Note: Winning this custom illustration does not transfer the rights to the illustration image. Copyright of the illustration image is retained by Joanna Baker, the artist. *