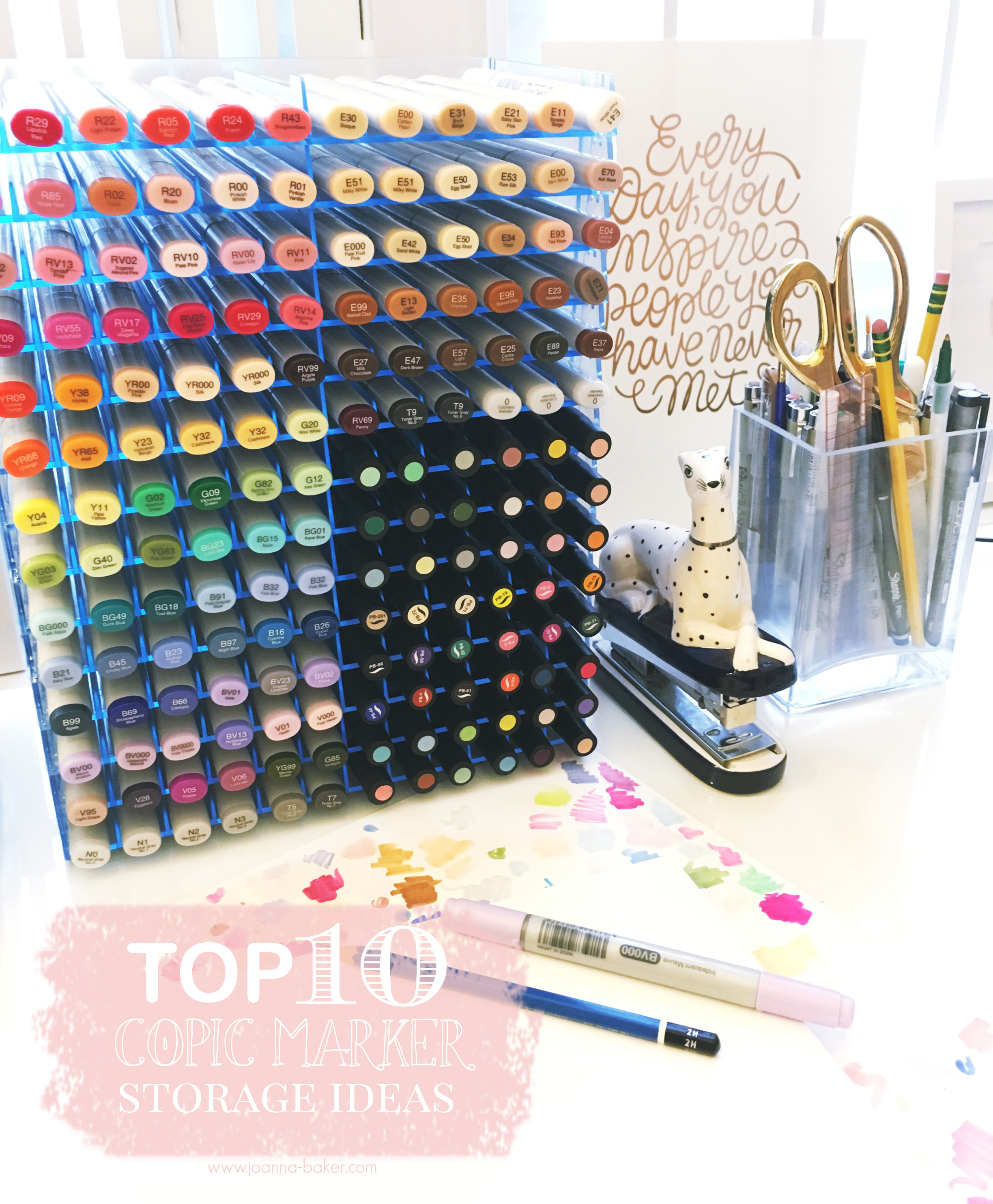 If you've been following my blog and Instagram for awhile, you know that my favorite medium to work with is Copic Sketch markers! I've been collecting markers for years now and combined with my Prismacolor and Chartpak markers from my Parsons days, I have quite a few! I've been on a constant search for the best (and most affordable) way to store them and I finally have a method I'm super excited about!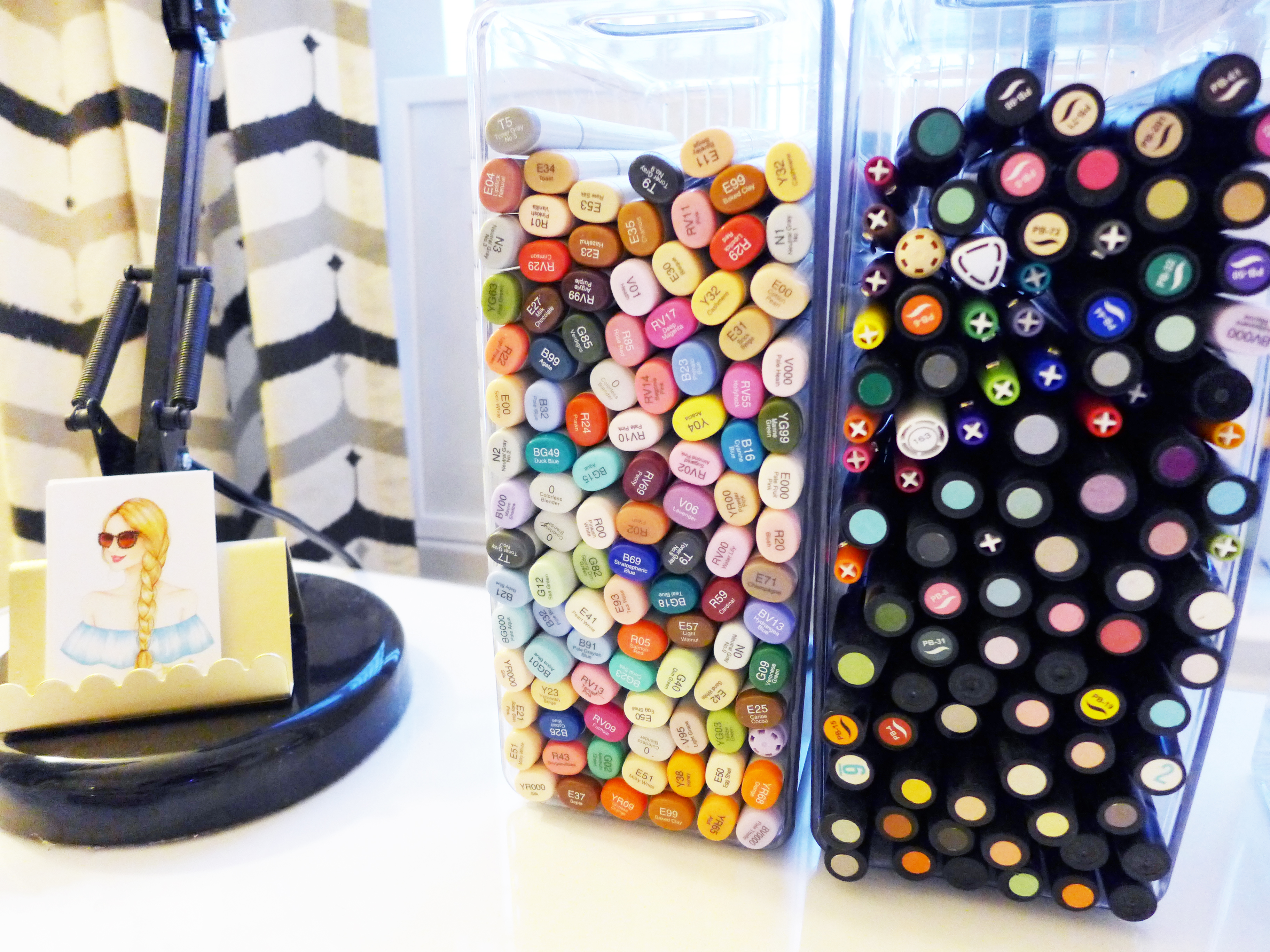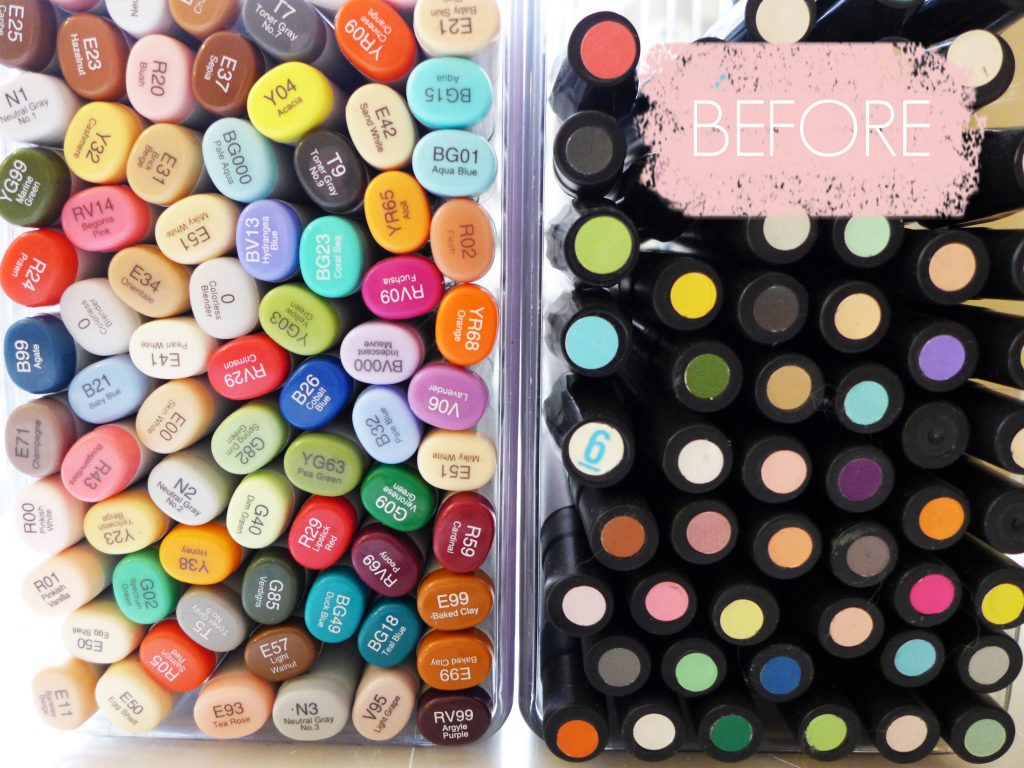 A couple of years ago, I found these great containers at Container Store that when standing on one end, make for easy to use marker storage with a pretty small footprint. Space is limited on my desk, so it was important that the containers weren't too big. I love that they have handles that make them portable and when I would take my markers on the road, I could pack the containers right into my travel bag. But I was quickly running out of space as my collection grew and a couple weeks ago I had completely outgrown my two containers.
Rather than buy more of the same containers that would take up additional desk space, I decided to look into vertical storage that I could continue to build and add to. After lots of searching and reading reviews, I decided to purchase the Crafter's Companion Ultimate Storage Rack. I got the pack of 14 trays to start, but plan on adding more. You can also buy them in a pack of 6.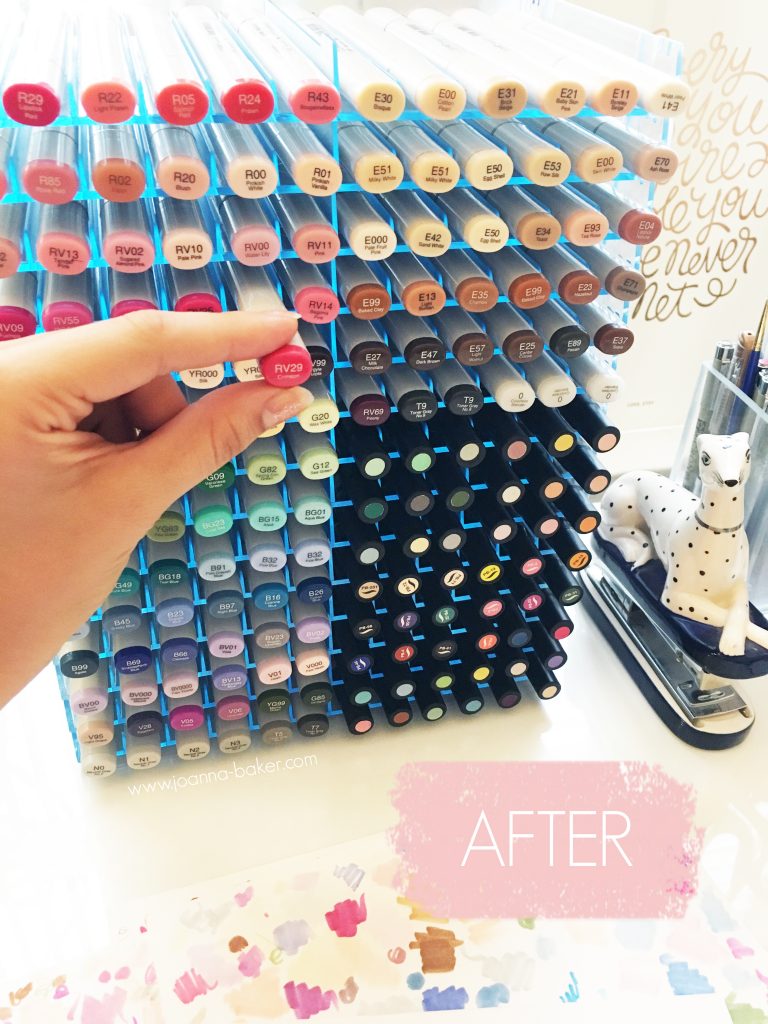 It's so much easier to stay organized, select the marker I want to use, and see all of my colors at once!! Each tray is separate and they attach to one another with little plastic feet that sort of snap into place.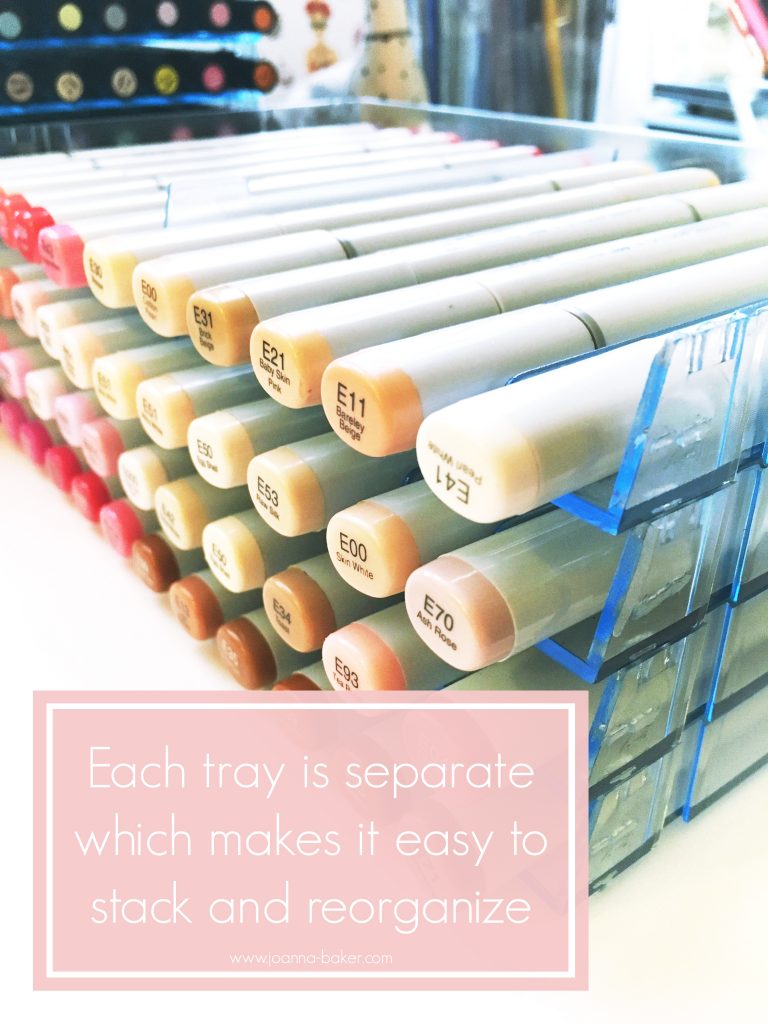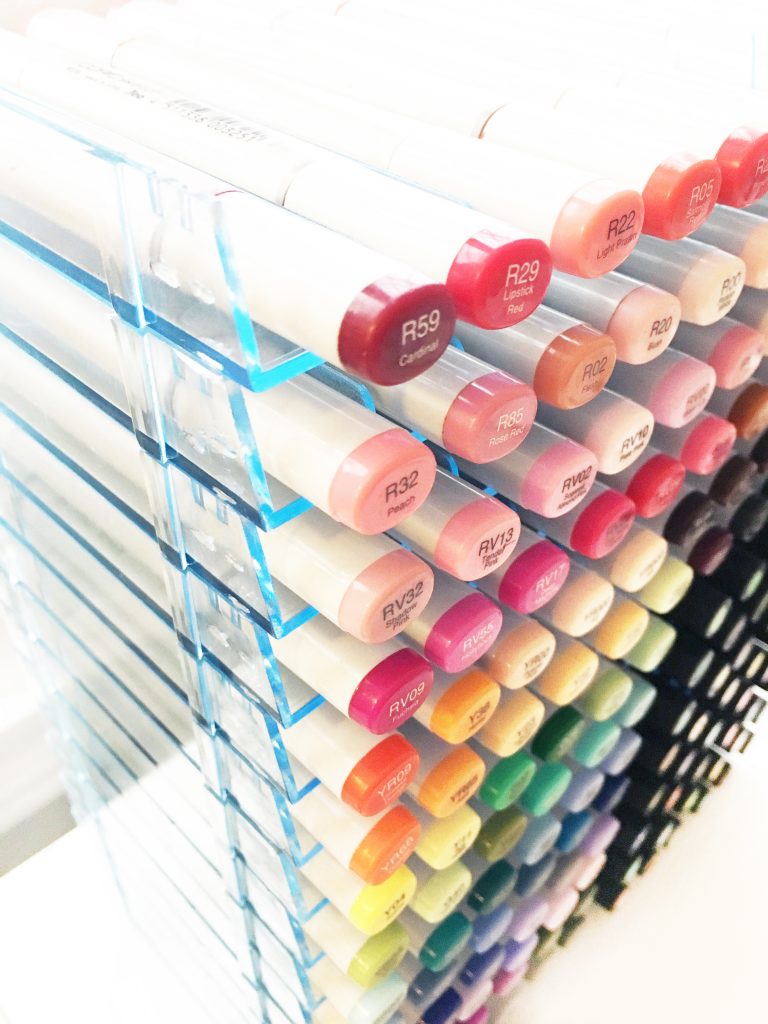 The feet are strong enough so you can pick the entire set up by the lowest tray and move them around without the individual trays sliding off or detaching. This is great for me because I always find myself reorganizing my workspace and need storage that is easily moveable.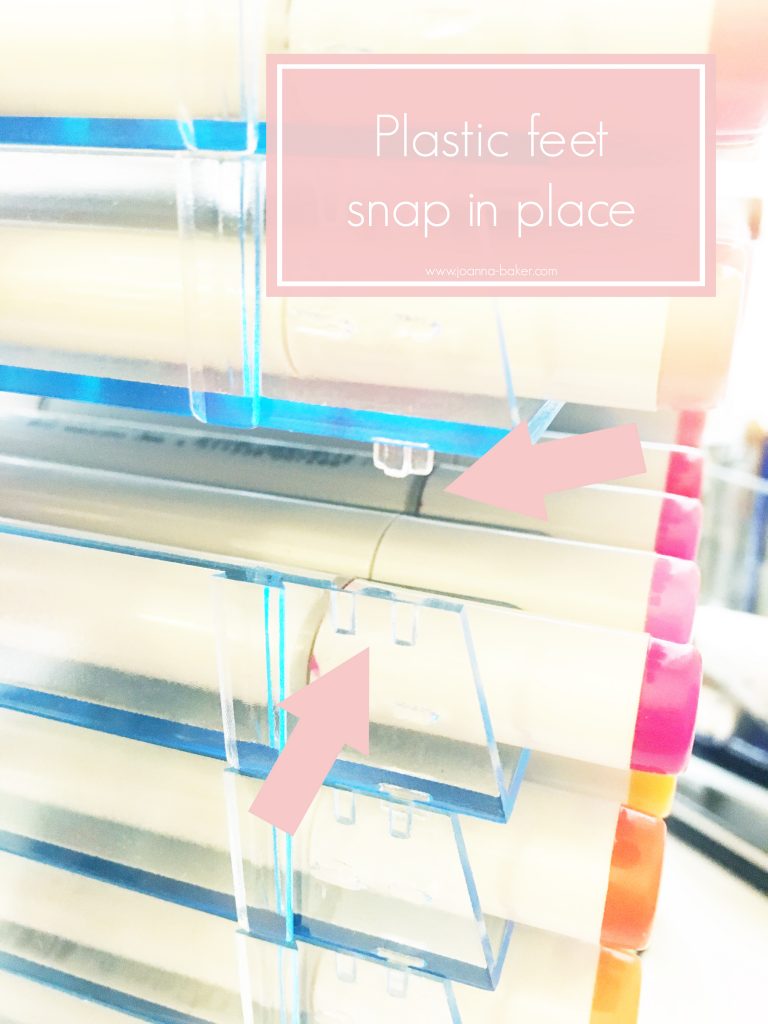 One cool feature is that you can stack them two different ways, either straight up and down, or by off-setting them so they stack at a slight angle. Currently I have my bottom ten trays stacked straight to provide a strong base and the top three trays stacked at an angle.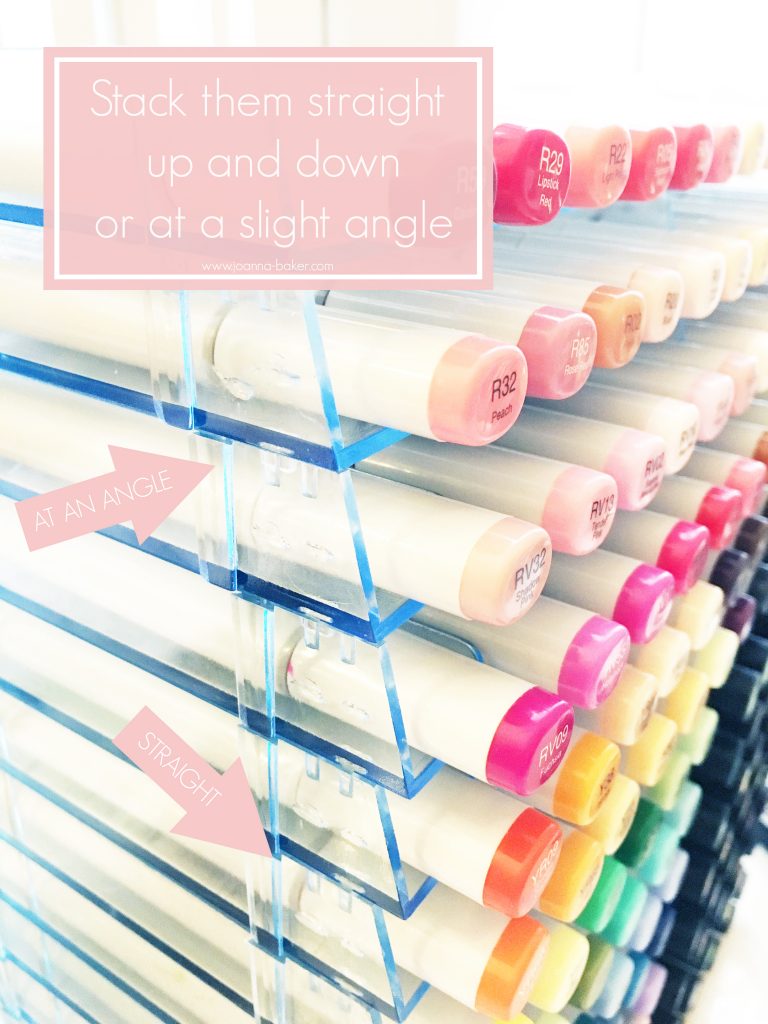 As you can probably tell, I'm super excited about my new marker storage! While the Container Store bins are awesome too and are a great, affordable way to start out, I was ready for an upgrade. And bonus: The Crafter's Companion trays fit my Prismacolor and Chartpak markers too!
If you're looking to upgrade your marker storage, here's a list of my top ten picks for Copic Marker storage (in no particular order). I haven't tried them all out but when researching ideas, they looked like the best solutions. I'd love to hear about how you organize your art supplies, let me know in the comments below =)
10 Best Copic Marker Storage Ideas:
Crafter's Companion: The Ultimate Storage Rack
DIY Plastic Container & Eggcrate (Premade Available Here)
Copic Sketch Marker Plastic Case
Copic Block Stand Marker Tower
Storage Rack for Copic Markers & Refills
Copic Marker Soft Carrying Case
I hope you all found this helpful! I feel like I can call off my marker storage search for now, although I will be in the market soon for something that I can travel with =) Have a great and productive week ahead!!
xoxo
~Joanna <3
P.S. This post isn't sponsored in any way, I just really love Copic Markers and my new Crafter's Companion marker storage! =)
SaveSaveSaveSaveSaveSaveSaveSaveSaveSaveSaveSaveSaveSave
SaveSaveSaveSaveSaveSaveSaveSave
SaveSave
SaveSave
SaveSave