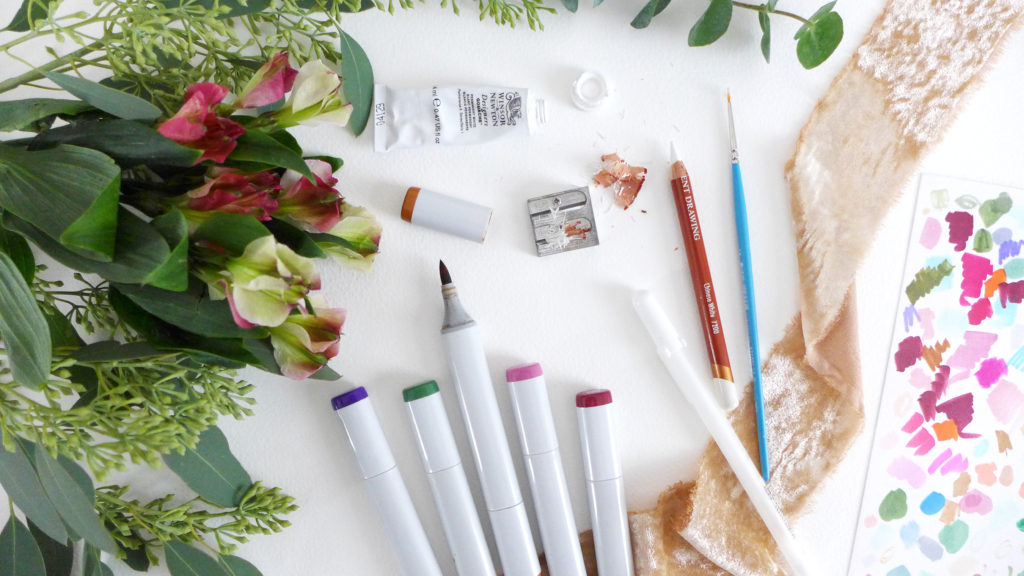 This time last year I was in a strange place. I was feeling stagnant, uninspired and directionless. As a creative, these feelings are familiar – they come and go. But for the first time in five years of running my little art business, I was at a loss for how to move forward. Something didn't feel quite right and I knew I needed a change…
Enter Emily Jeffords and her business course for artists and creatives: Making Art Work. You can read exactly where my head was one year ago – and I'm so glad I documented that time in my journey. I was feeling lost, but it was a lostness that inspired me to reach out towards something new with an open heart. And I'm very grateful that Emily's podcast entered my orbit at just the right moment. Those little bits of intuition and hope conspiring together, pushing me to invest in myself, (even though I can always come up with a million excuses as to why I shouldn't) have lead to such beautiful growth as an artist and creative small business owner. They've also introduced me to the thing I think I needed the most: creative community.
Running an art business is hard. No one tells you how to do it, art school doesn't prepare you for it, and there isn't a prescribed roadmap. Up until last year, this resulted in me cobbling together things I had learned along the way through trial and error. But in the process of working through all the lessons in Making Art Work, I realized a lot of what I had taught myself was harming me – negative mindsets, an unhealthy relationship with my creativity, devaluing my work – so many things I didn't even realize were holding me back. But that's the beautiful thing about this course and the creative community that comes with it – they help you see the things you can't see and unlearn the unkind things you believe to be true about yourself. When I joined Making Art Work, I signed up for a peer group in search of that community. Can you believe it – nearly a year later, we're still having supportive Zoom calls with each other once a week?!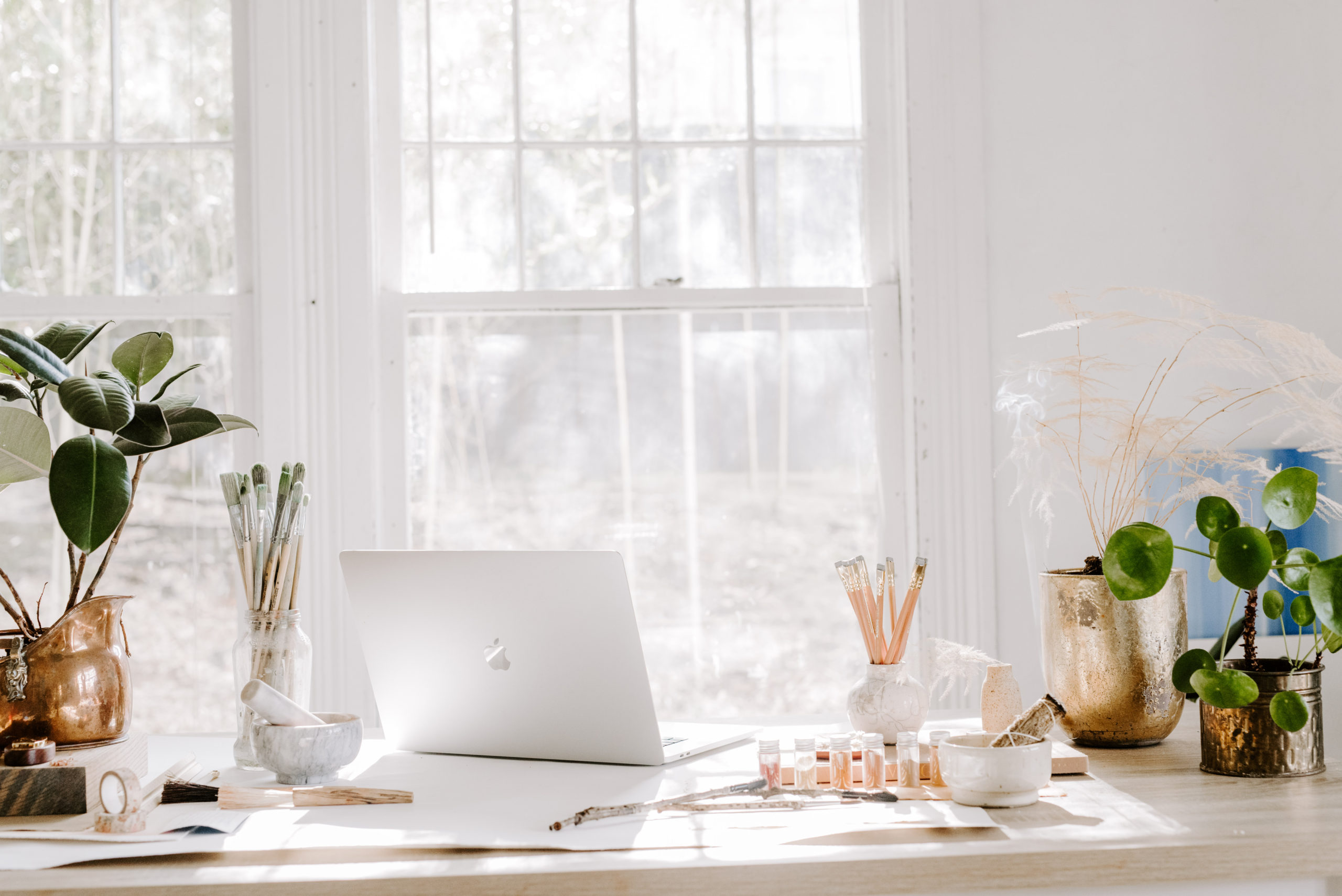 When I think back to 2020 – all the uncertainty, anxiety, and fear – leaning into my creativity is what pulled me though. Before the pandemic, the majority of my art business income came from in-person markets and shows. When everything shut down, I knew I had to make a major shift. And I honestly don't know what I would have done if I wasn't apart of Making Art Work, getting support, guidance, and training from Emily each week. Instead of withdrawing in fear and letting the anxiety take over, I felt like I had the tools (and confidence!) to take on new projects, try things I had never done before and connect with my audience in a more meaningful way. I mean, just look at the amount of content, worksheets, and goodness packed into this course!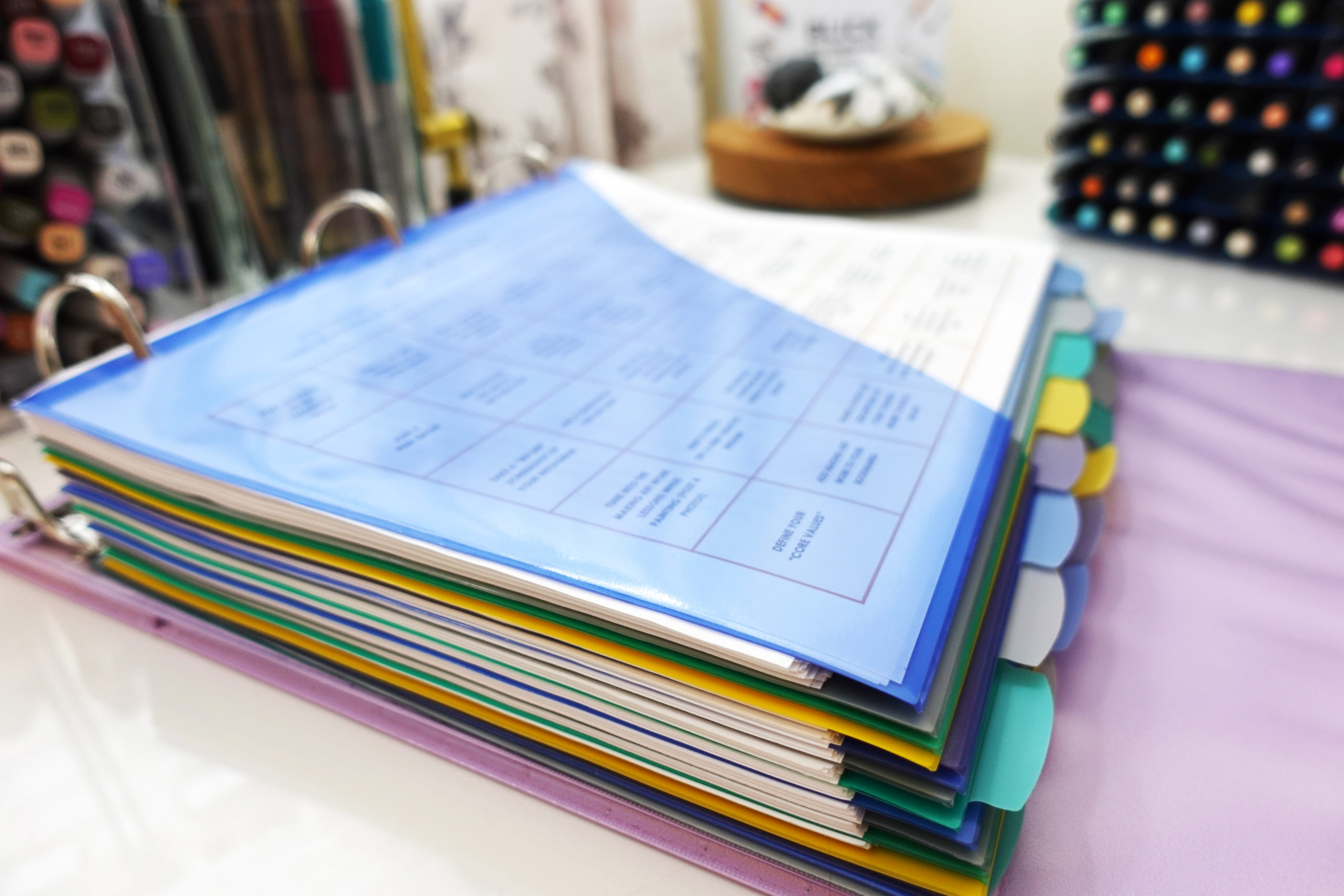 If you're a creative entrepreneur or artist trying to make a living off of your artwork, this course is for you. It's pretty much an MBA for artists. Emily shares her wisdom generously on everything from marketing and branding to maintaining a healthy mindset and nurturing your creativity. She is honest and open about the struggles we face as creatives and offers so much clarity around building a creative business that is sustainable and life-giving. I loved the course so much, that I'm taking it again in 2021! And I'm so passionate about what Emily teaches, that I've decided to partner with her this year as an affiliate. I want you, fellow artist, to get the most out of this course as possible which is why I've decided to offer a bonus for everyone who enrolls using my special link…
Starting today, February 18th through the next Thursday, February 25th – everyone who enrolls in Making Art Work 2021 with this link will get a FREE 1-hour group coaching session with me to discuss your business goals and talk through the course syllabus. During our bonus group video session on Zoom, I'll share the most impactful parts of the course for me and what I think you'll want to lean into. MAW is a big course – it's twelve weeks long and there is a lot of incredible content to digest. I want you to get a head start which is why I'm offering the hour-long group coaching session before the course officially begins so you can hit the ground running!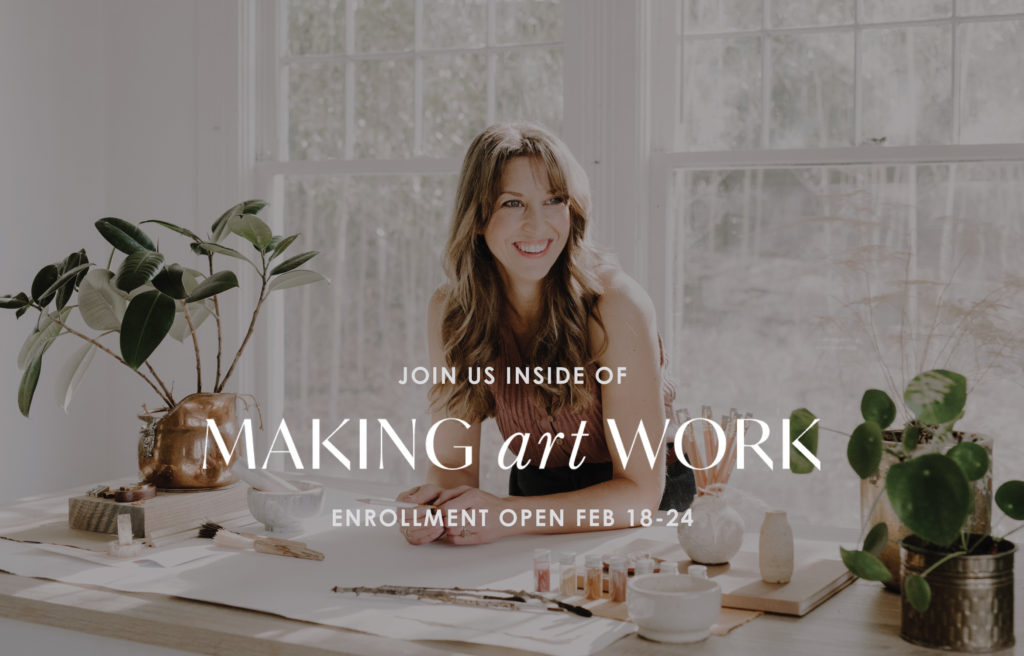 Making Art Work is a serious investment – both financially and in terms of your time commitment. I was hesitant too – like I said, I'm the first one to come up with a reason why I should just 'figure things out on my own.' And how I ended up paying for the course last year is actually kind of poetic – you can read about it here. But if you're an artist or creative entrepreneur who feels like you're ready to let some new information in and allow someone who is super knowledgeable about how to run an art business guide you in the right direction, this course is worth way more than the up front cost. In my case, I was expecting to get to the next level in my business without actually investing in the education and resources needed to get me there – which is why I was feeling so stuck! I am now convinced that you can't ask yourself to grow if you don't give yourself nourishment. And that's what Making Art Work is – a beautiful, soulful experience where you get to know yourself, your work, and your creative business in a deeply meaningful way.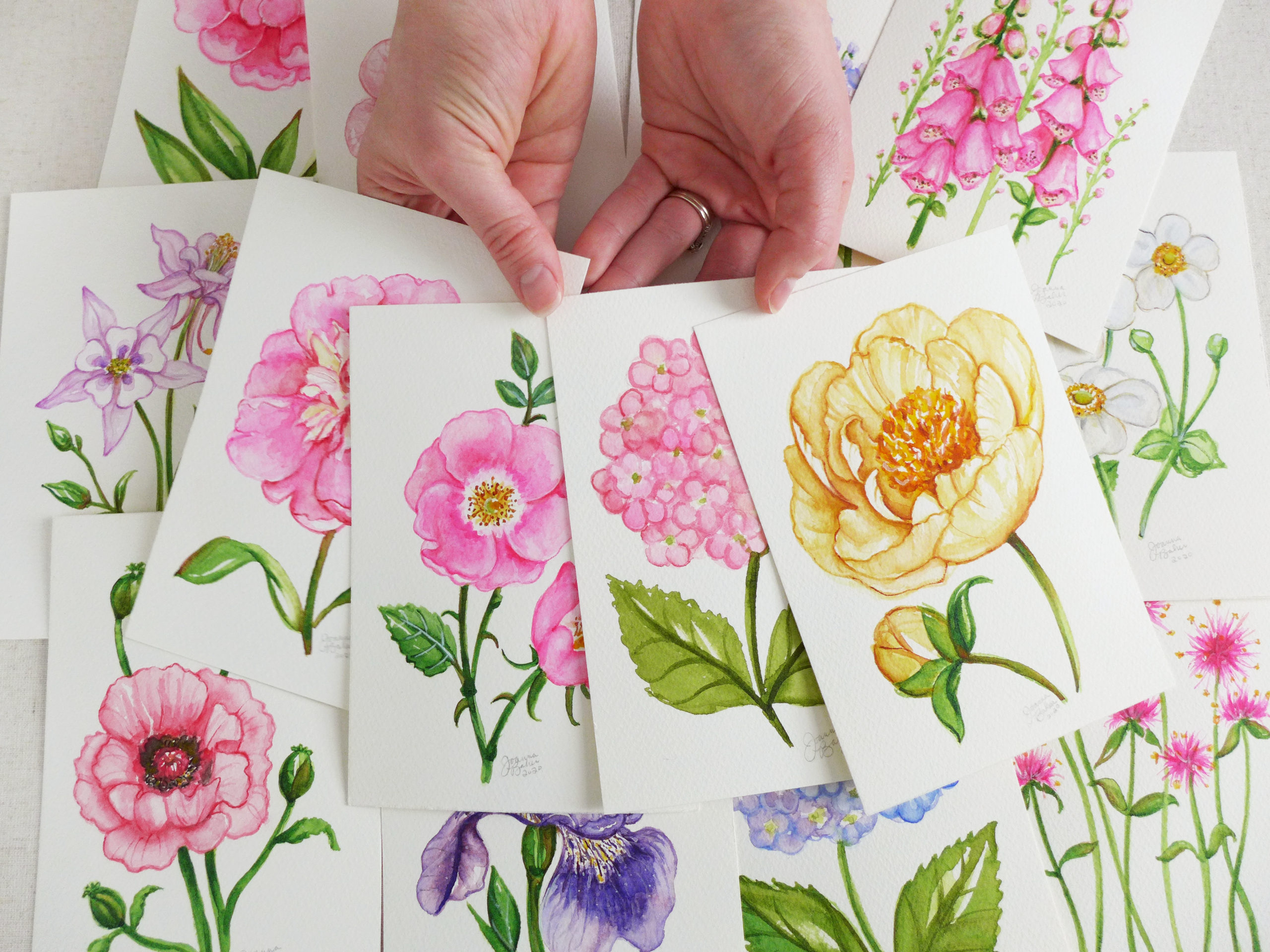 Without Making Art Work, I never would have launched my first ever collection of original watercolor paintings that mean so much to me. I wouldn't have had the courage to offer free online Community Art Classes during the first few months of the pandemic which lead me to the creation of The Bountiful Artist, my illustration membership community. I ended up having the best holiday season ever in 2020 despite not hosting a single in-person show (which is how I made the majority of my holiday income prior to the pandemic). This course gave me the permission to just go for it. It was like having a best friend in my corner, urging me to do all the things I was passionate about and leave behind all the things that were draining and not working for me.
If you're a creative entrepreneur and artist hoping to make a living off of your art someday or you're years into your business and feeling like you've hit a plateau, I truly believe Emily's course will help you find the best way to move forward. If you'd like to chat more about my personal experience with Making Art Work, send me an email! I'd be happy to talk more and see if this course would be the right fit for where you are right now.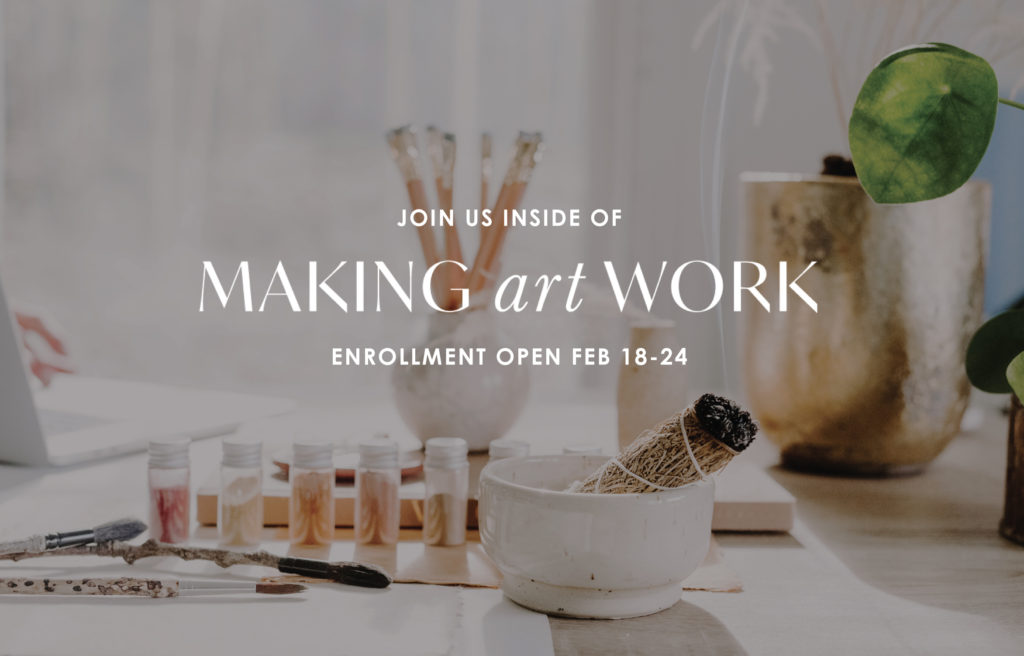 Making Art Work officially opens for enrollment TODAY (Thursday, February 18th) at 10:00am EST and closes on Thursday, February 24th at midnight. Emily only offers this course once a year so if you're ready to see what it's all about, she has a beautiful page on her website dedicated to sharing all the details. Learn exactly what's in the course, which topics will be covered each week, how often Emily will show up live (hint: it's a LOT!) and how to join a peer group. Just click the button below to learn more and enroll, plus you'll get an exclusive 1-hour group coaching session with me as a FREE bonus!
Emily is also going LIVE today and tomorrow at 12:00PM EST in her free Share the Work Facebook Group to answer questions about the course and share some golden art business wisdom with us which you can join here.
I hope to see you inside Making Art Work 2021!
xoxo