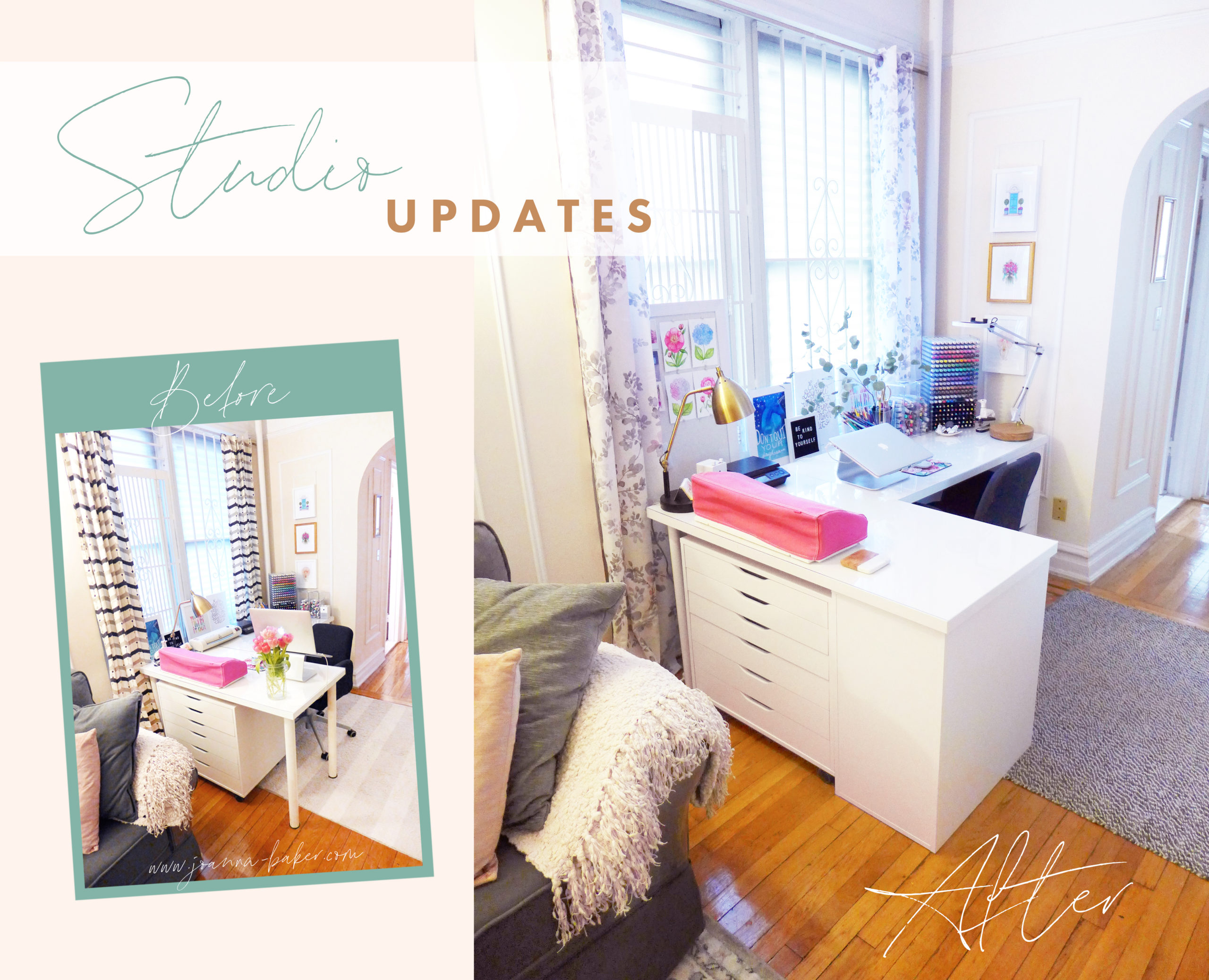 Since we've been spending a lot more time at home than usual, we've taken the opportunity to slowly make some updates to our apartment decor. And it wasn't long before this desire to refresh our space overflowed to my little home studio…
I've been needing more storage for awhile now, especially since I started collecting watercolor supplies. And my desk setup allowed for an additional set of drawers. All of my home studio furniture is from IKEA, I've had the desks for years but started adding sets of drawers since we moved to our current apartment six years ago. But now I think I've reached max drawer capacity, haha! Fun tip: you can get plexiglass custom cut at your local hardware store for pretty cheap and protect your tables from wear and tear for years to come.
I originally bought this fabric pinboard to use as a backdrop to shoot photos for my Into the Garden collection but love the idea of having a mood board in my studio again. I put up a few of my botanical practice paintings that didn't make the cut but love how much cheery color they bring to my space. I plan on adding more inspiration photos and switching them out seasonly.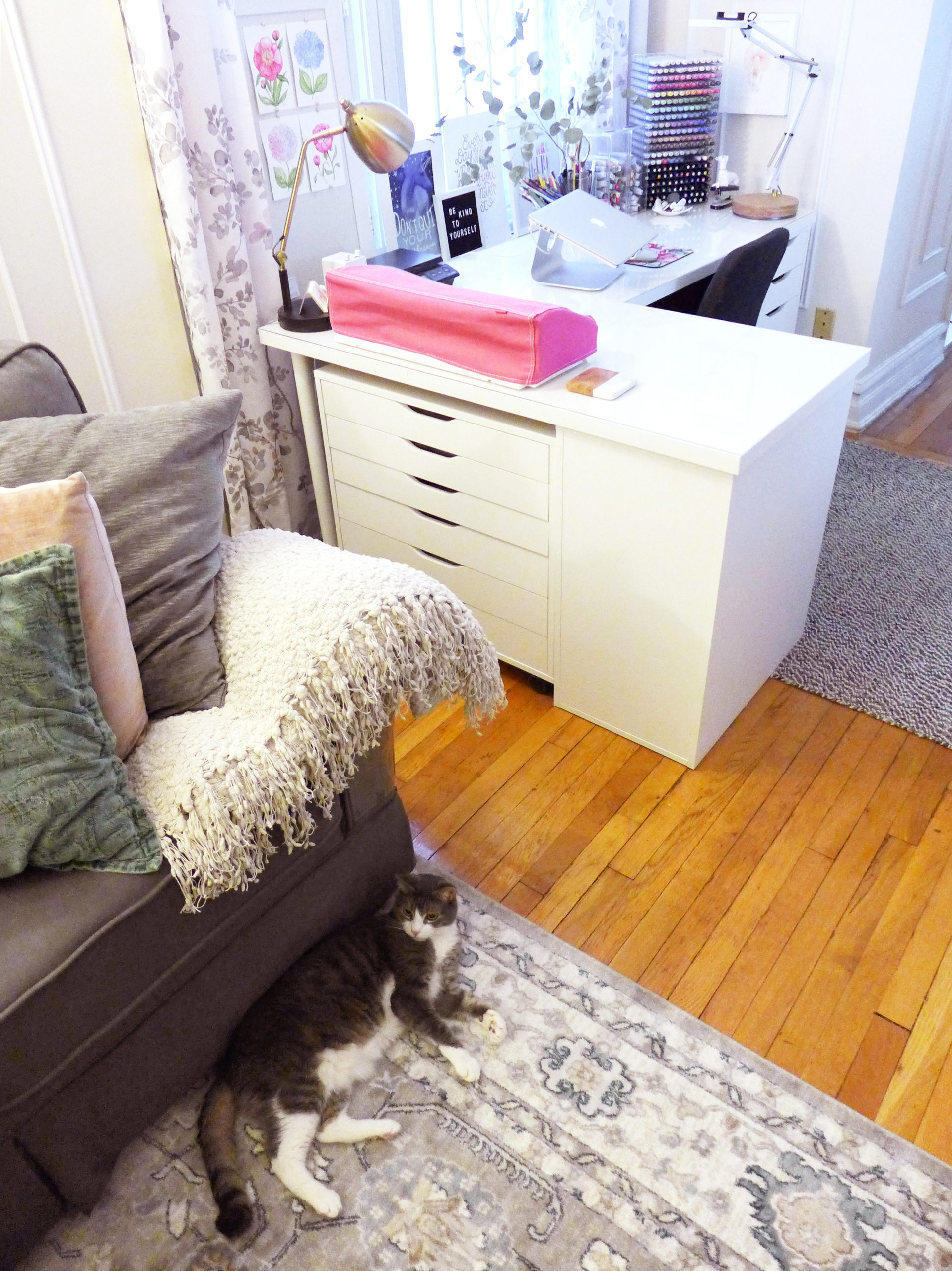 We had some cute graphic chevron curtains from West Elm from our last apartment hanging for awhile but I wanted a softer look for my studio and just found these gorgeous semi-sheer botanical inspired curtains. They let a lot more light in and really brighten up the whole space. They make such a difference throughout the day when the sunshine pours in through the double windows. We also switched some rugs around when we got a new one for the living area. Both are Junebug kitty approved =)
And for great light even at night, I jumped at the chance to scoop up a Canvas desk lamp when they launched their latest batch. If you're an artist, this lamp is amazing both for drawing or creating in all types of light (it has warm, cool, & neutral settings) and for shooting video throughout the process. It features a ring light at the top and a phone mount that is completely adjustable so you can swivel it any which way for the perfect angle. You can order the pretty wooden base or just get the clamp to hook it onto your desk. They are sold out right now but if you follow along on their Instagram, you'll get a heads up when the next batch is ready to ship!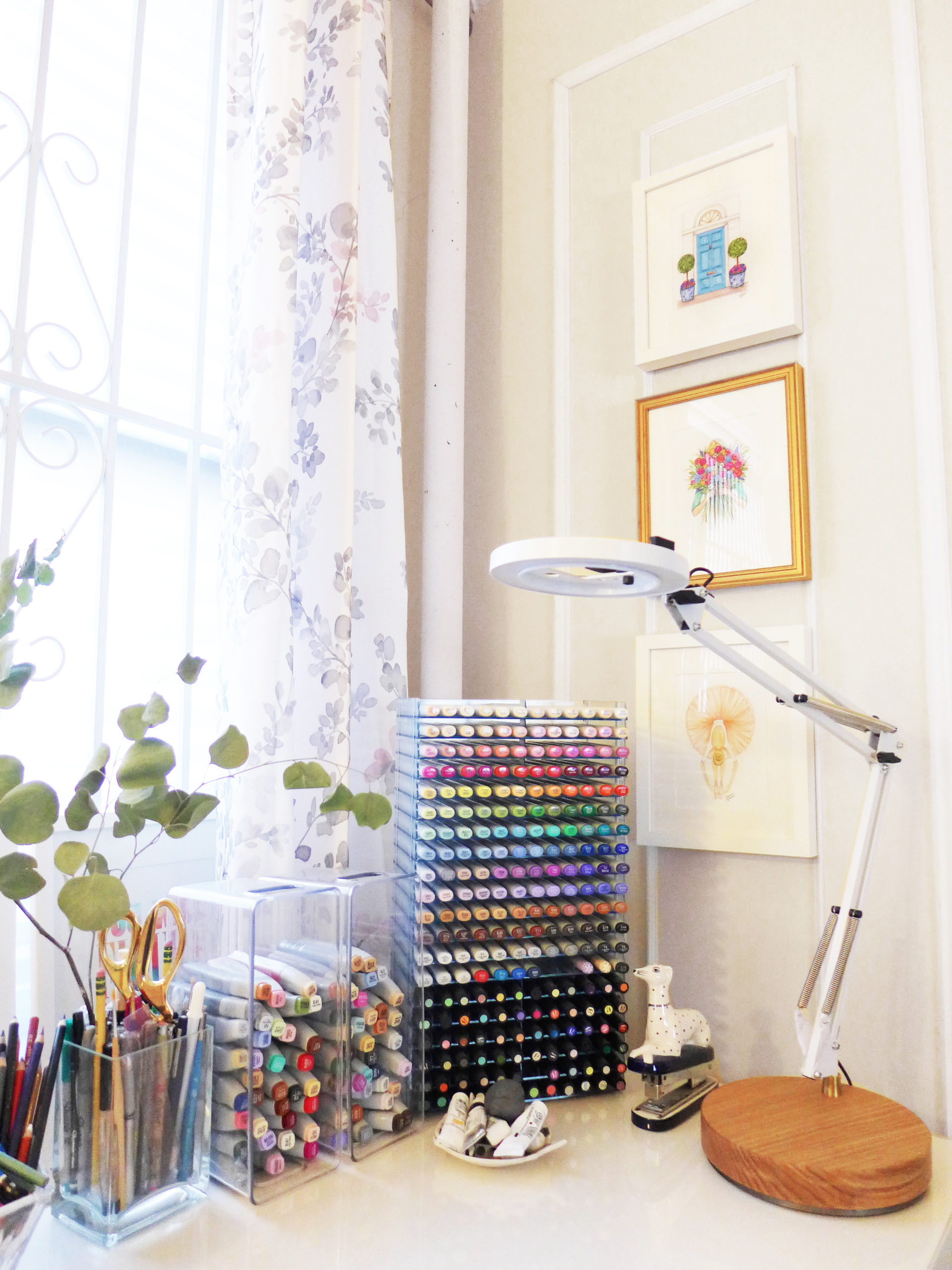 That's all for now! Just a few changes that I think make a world of difference to me. =) It's funny how tweaking two or three things in a space can make it feel fresh and inviting again. Do you have a studio or office at home? Have you made any updates during quarantine to make it more exciting? I hope these little upgrades inspire you to make some small changes and fall in love with your space all over again!
xoxo